When Lindsay Madaras joined Bread Financial in 2013, she was hired to establish a company-wide wellness program focused primarily on exercise and nutrition. Ten years later, that program, aptly named LivingWell, has exceeded her expectations and transformed into a holistic well-being resource to improve the physical, mental and financial health of Bread Financial associates.
"When we launched LivingWell, we began with two main programs – preventative mammograms and financial workshops," said Lindsay, senior manager, associate well-being. "Our leadership recognized the importance of supporting the associate's whole self – both inside and outside of work – and we grew quickly. We began hosting things like on-site health checks, tobacco cessation workshops and movement challenges, and then eventually opened on-site fitness centers."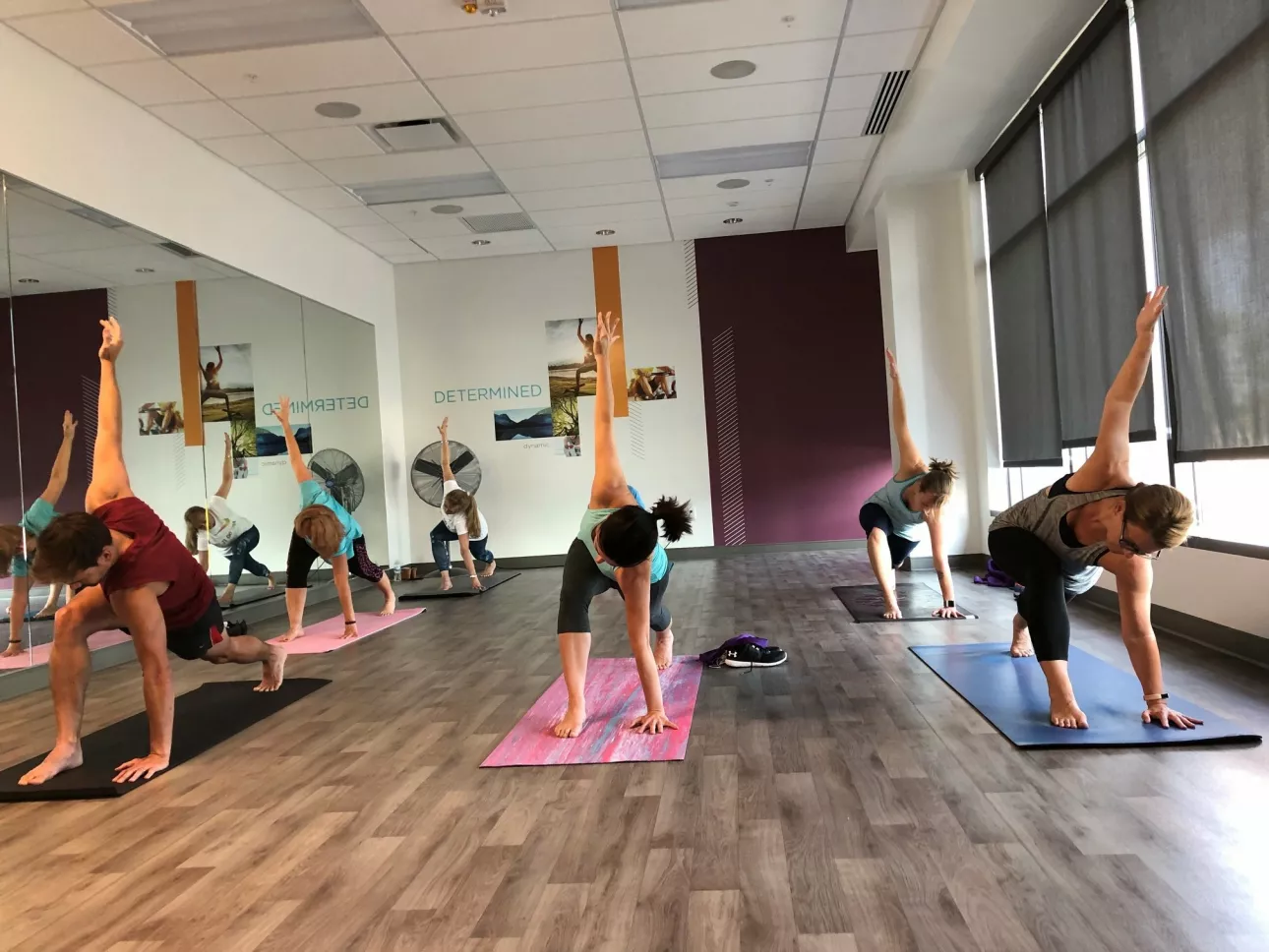 The LivingWell team continued to grow its on-site programming– until the COVID-19 pandemic hit. With associates suddenly working from home, Lindsay and LivingWell project manager Maile Kusano had to rapidly shift to make programming accessible to associates outside of the office. Despite the unexpected challenge, they saw opportunity.
"I think anyone that works in wellness would agree when I say that in some ways the pandemic was a blessing in disguise for wellness initiatives," said Lindsay. "Associate well-being was put at the top of the list of priorities because companies could no longer see it as a 'nice to have.' It's really a 'must have.' Plus, virtual solutions became widely accepted during that time and so many things became more accessible, like therapy appointments over a Zoom call."
Lindsay and Maile quickly adjusted to provide the same LivingWell offerings, but in a virtual environment. For example, when on-site fitness centers closed for a period of time during the pandemic, they pivoted to host weekly virtual fitness classes. They also developed resources such as cooking demos, stress management tools and stretching sessions for associates.
The pandemic also put a spotlight on the importance of mental health. When Lindsay and Maile observed associates experiencing long wait times to schedule appointments with the company's existing resource, they introduced Spring Health, which offers six free therapy sessions to associates and their family members with a wide range of providers and average wait times of less than two days.
Another key aspect of holistic health is financial wellness, and the LivingWell team introduced BrightPlan in 2021 to provide access to a variety of tools, including unlimited one-on-one calls with a financial planner, to improve associate's financial health and increase their financial wealth. In addition, BrightPlan launched a "Money Navigation" resource in 2022 that allows U.S. associates to learn about all of Bread Financial's benefits that deal with dollar signs in one easy-to-access location. According to Lindsay, this type of benefit is unique.
"Other companies might host financial workshops for their employees, which is great, but we provide a digital platform in the palm of your hand to help you work toward your personal financial goals," she explained. "That's a difference maker."
In addition to partnering with vendors, Lindsay and Maile also lean into grassroots wellness initiatives, including fitness challenges, recipe shares, and themed photo submissions like "Show Your Green Thumb" and "Pet Appreciation Week." which associates can participate in from the comfort of their homes.
Most recently, they focused on enhancing the LivingWell Reward, which reimburses associates for eligible well-being expenses. Fitness classes, exercise equipment and gym memberships are included, along with items relevant to the post-pandemic work environment, like athletic clothing, music subscriptions, park passes and more.
"We always have a goal to reduce healthcare costs for the company, but there's a really big component that our leadership team recognizes, and that's about doing the right thing and supporting people. When our associates walk in the door or log-in remotely, we want to make sure they feel cared for," said Lindsay.
The programs and benefits implemented by the LivingWell team are being noticed. Last year, LivingWell received the 2022 Healthy Worksite Platinum Award from the Healthy Business Council of Ohio and the 2022-2023 Healthy KC Platinum Certification from the Greater Kansas City Chamber of Commerce. The Ragan Workplace Wellness Awards also recently announced Bread Financial as a finalist in the Financial Wellness category.
Now, as LivingWell reaches its 10-year anniversary, Lindsay is optimistic about the future. She and Maile are looking to increase the parity between programming in the U.S. and India and find even more opportunities to expand resources to associates' family members.
"I always joke that I can't believe I get paid to do this because I truly love what I do. I'm super passionate and just really, in my soul, believe supporting the total well-being of our associates is important. To know that we might give someone a resource that changed their quality of life in some way…I wake up every day feeling like what I do matters, and it's a really good feeling."
I wake up every day feeling like what I do matters, and it's a really good feeling."
Lindsay Madaras - senior manager of associate well-being, Bread Financial
About Bread Financial™
Bread Financial™ (NYSE: BFH) is a tech-forward financial services company providing simple, personalized payment, lending and saving solutions. The company creates opportunities for its customers and partners through digitally enabled choices that offer ease, empowerment, financial flexibility and exceptional customer experiences. Driven by a digital-first approach, data insights and white-label technology, Bread Financial delivers growth for its partners through a comprehensive product suite, including private label and co-brand credit cards, installment lending, and buy now, pay later (BNPL). Bread Financial also offers direct-to-consumer solutions that give customers more access, choice and freedom through its branded Bread Cashback™ American Express® Credit Card and Bread Savings™ products.
Headquartered in Columbus, Ohio, Bread Financial is powered by its 7,500+ global associates and is committed to sustainable business practices. To learn more about Bread Financial, visit BreadFinancial.com or follow us on Facebook, LinkedIn, Twitter and Instagram.