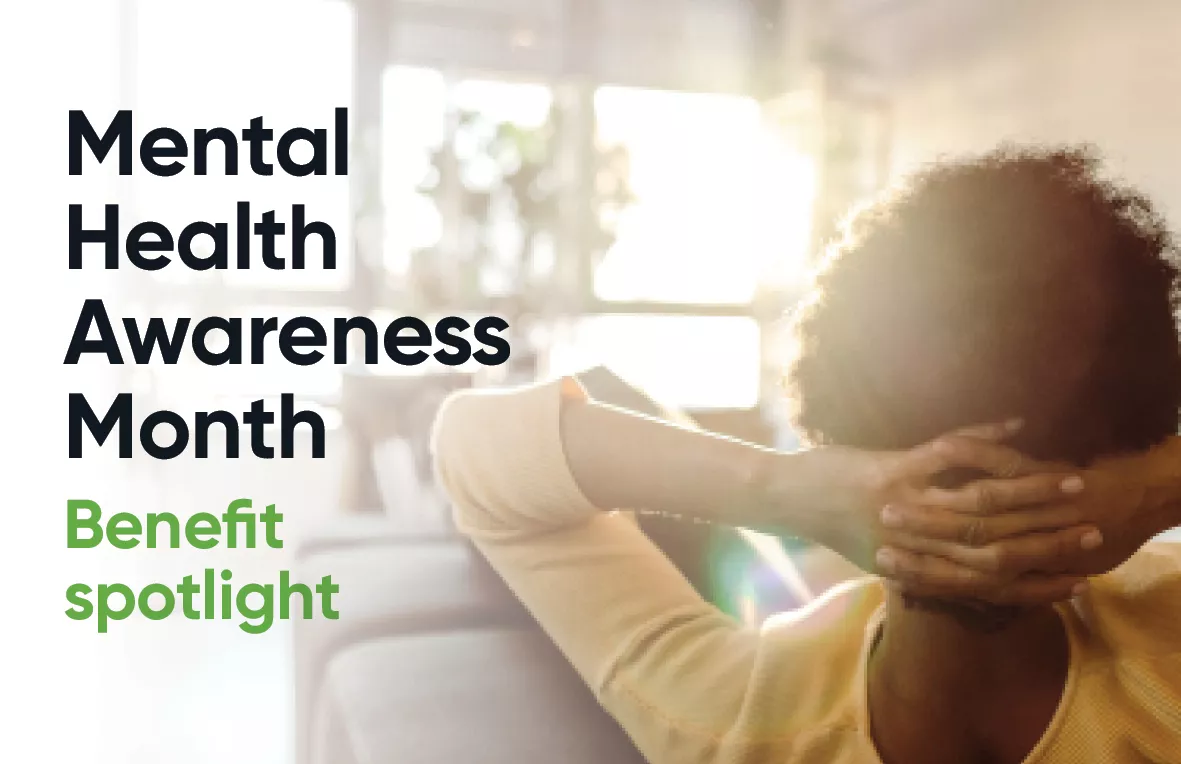 Overwhelmed and anxious. That's how associate Lena D. found herself during the COVID-19 pandemic. A payment solutions supervisor who has worked at Bread Financial for eight years, Lena was dealing with a recent divorce, a stressful relationship and financial issues beyond her control – on top of the daily pressures of being a working, single parent amidst a pandemic.
"I felt like my life was crumbling down around me," said Lena, who was trying to figure out what to do when Bread Financial launched its confidential mental wellness benefit, Spring Health, in January 2022. Intrigued by the free therapy sessions included with the new benefit, she signed up immediately.
"Before I joined Spring Health and started therapy, I felt so helpless and hopeless," she said. "I wasn't expecting to find a therapist who I would connect with, but I'm so glad I did. I didn't even think of it like I was seeing a therapist. I felt like I was talking to a friend, but a friend who was knowledgeable about my anxiety and so supportive."
Prior to Spring Health, Bread Financial offered a traditional employee assistance program. Over time, it became apparent that the program was not meeting associates' needs as they had to put in their own time to find a therapist accepting new patients, and it was not uncommon to wait six weeks for an appointment.
"For anyone struggling with a mental health concern, the last thing you want to do is make a lot of phone calls and wait weeks to be seen," said Maile Kusano, who serves as a project manager for Bread Financial's holistic associate well-being program, LivingWell. "We launched Spring Health to elevate the associate experience and help people get better, faster. We wanted to offer a solution that would provide support across the mental health spectrum, which could mean seeing a therapist or just working with a coach to achieve a specific goal."
All associates and their immediate family members – including children – can take advantage of Spring Health, regardless of whether they are enrolled in a company medical plan. After filling out an initial assessment, associates receive personalized recommendations and have free access to Care Navigators, who explain care options and, if necessary, help find therapists. Associates receive six free therapy sessions per person, each year, with a typical wait time of one-and-a-half to two days for an appointment.
Beyond therapy, Spring Health offers a variety of other personalized resources that meet associates where they are on their mental wellness journey, from professional coaching and 24/7 crisis support to work-life services experts who can connect associates to legal assistance, financial services, child- or elder-care and more. In addition to therapy, Lena also uses Spring Health's library of on-demand wellness exercises and meditations, called Moments, and she recommends it to her teammates regularly.
"I want my team to know that I care about them as people," she said. "I'll hop on our team chat and tell them things like, 'I was feeling frustrated earlier, so I took advantage of the Spring Health app and did a quick breathing exercise, and now I feel so much better.' My hope is they'll do that, too, and feel supported in their well-being."
Through its partnership with organizations like Spring Health, Bread Financial is able to deliver on its commitment to create a supportive, empathetic work environment where associates feel empowered, cared for, and comfortable opening up about important issues such as mental health.
"In the post-pandemic work environment, companies no longer see associate well-being as a 'nice-to-have,' but a 'must-have,'" said Maile. "Our leadership team believes our wellness offerings are about doing the right thing and supporting our people."
In the post-pandemic work environment, companies no longer see associate well-being as a 'nice-to-have,' but a 'must-have. Our leadership team believes our wellness offerings are about doing the right thing and supporting our people."
Maile Kusano - Project Manager, Living Well
These days, Lena says she no longer feels "helpless and hopeless" – now, she's "resilient and strong," and grateful to have access to a benefit like Spring Health.
"I learned so much from my therapist, and it has been amazing to work with her," Lena said. "With her help, I became a stronger person, and I was able to let go of a toxic relationship and work through things much easier than if I had tried to do it on my own."
May is Mental Health Awareness Month, a time to fight stigma, educate the public and provide resources and support for individuals affected by mental illness. To learn more about the ways Bread Financial supports the holistic wellbeing of its associates, visit its careers page.
Disclaimer: This spotlight includes statements about Spring Health by current customers/clients. Spring Health did not provide any compensation in exchange for these statements.
---
About Bread Financial™
Bread Financial™ (NYSE: BFH) is a tech-forward financial services company providing simple, personalized payment, lending and saving solutions. The company creates opportunities for its customers and partners through digitally enabled choices that offer ease, empowerment, financial flexibility and exceptional customer experiences. Driven by a digital-first approach, data insights and white-label technology, Bread Financial delivers growth for its partners through a comprehensive product suite, including private label and co-brand credit cards, installment lending, and buy now, pay later (BNPL). Bread Financial also offers direct-to-consumer solutions that give customers more access, choice and freedom through its branded Bread Cashback™ American Express® Credit Card and Bread Savings™ products.
Headquartered in Columbus, Ohio, Bread Financial is powered by its 7,500+ global associates and is committed to sustainable business practices. To learn more about Bread Financial, visit BreadFinancial.com or follow us on Facebook, LinkedIn, Twitter and Instagram.