Three out of four holiday shoppers (76%) plan to seek deals, shop savings events and shop around this year, higher than holiday 2022 (69%).
Unfortunately for shoppers – and retailers – inflation continues to be the 'gift' that keeps on giving. This holiday season, 89% of shoppers indicate that price hikes are impacting their planned purchases, up from 86% last holiday. All signs point to spending that is very intentional, stretched over time – and driven by deals.
---
Tempering spending plans
One-third (33%) plans to spend 'more' on holiday purchases this year, down two points from 2022. Among those planning to spend more, 58% are doing so because they want to (up from 49% in 2022), though 42% are doing so because they need to due to inflation (versus 51% in 2022).
Holiday spending plans
Among holiday shoppers

Priming to save money and stretch budgets
Half (50%) expect to begin their holiday shopping by late October, up from 42% last year. This was perhaps precipitated by autumn sales events, like Prime Day, but also by shoppers' desire to stretch their spending over a longer time period to keep budgets balanced.
Holiday shopping strategies
Among holiday shoppers
Hedging toward debit, cash payments
Likely to assist in budgeting, holiday shoppers plan to lean into cash and debit cards. However, intent to use retail cards is holding steady from last year, while buy now, pay later plans are up from 2022.
Holiday top payments
Among holiday shoppers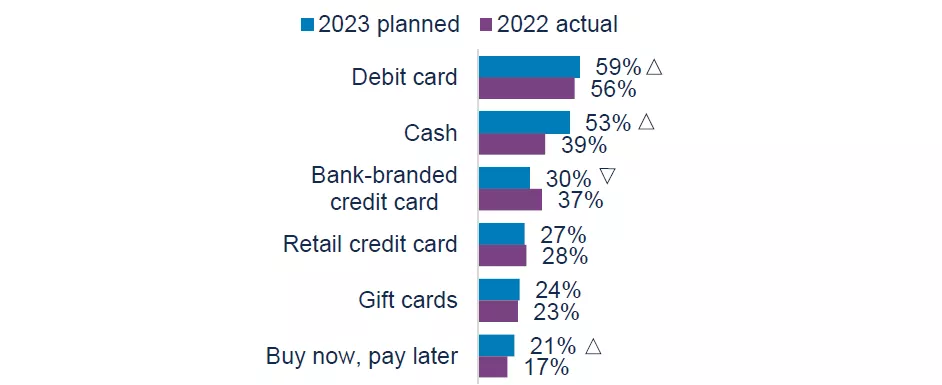 Key takeaway: Striking the right chord with holiday shoppers
While the holiday spending outlook isn't bleak, shoppers will be keeping their spending in check. Key to winning this season will be marketing to customers via relevant channels, rich and timely promotions and, last but not least, compelling, front-and-center value propositions – ensuring that customers feel confident in their purchases and parting with their hard-earned dollars.
Source: Bread Financial proprietary study, Holiday Look Ahead survey, Sept-23.
Arrows indicate significant differences vs. Bread Financial Holiday Hindsight survey, Jan-23.
---
About Bread Financial™
Bread Financial™ (NYSE: BFH) is a tech-forward financial services company providing simple, personalized payment, lending and saving solutions. The company creates opportunities for its customers and partners through digitally enabled choices that offer ease, empowerment, financial flexibility and exceptional customer experiences. Driven by a digital-first approach, data insights and white-label technology, Bread Financial delivers growth for its partners through a comprehensive product suite, including private label and co-brand credit cards, installment lending, and buy now, pay later (BNPL). Bread Financial also offers direct-to-consumer solutions that give customers more access, choice and freedom through its branded Bread Cashback™ American Express® Credit Card and Bread Savings™ products.
Headquartered in Columbus, Ohio, Bread Financial is powered by its 7,500+ global associates and is committed to sustainable business practices. To learn more about Bread Financial, visit BreadFinancial.com or follow us on Facebook, LinkedIn, Twitter and Instagram.