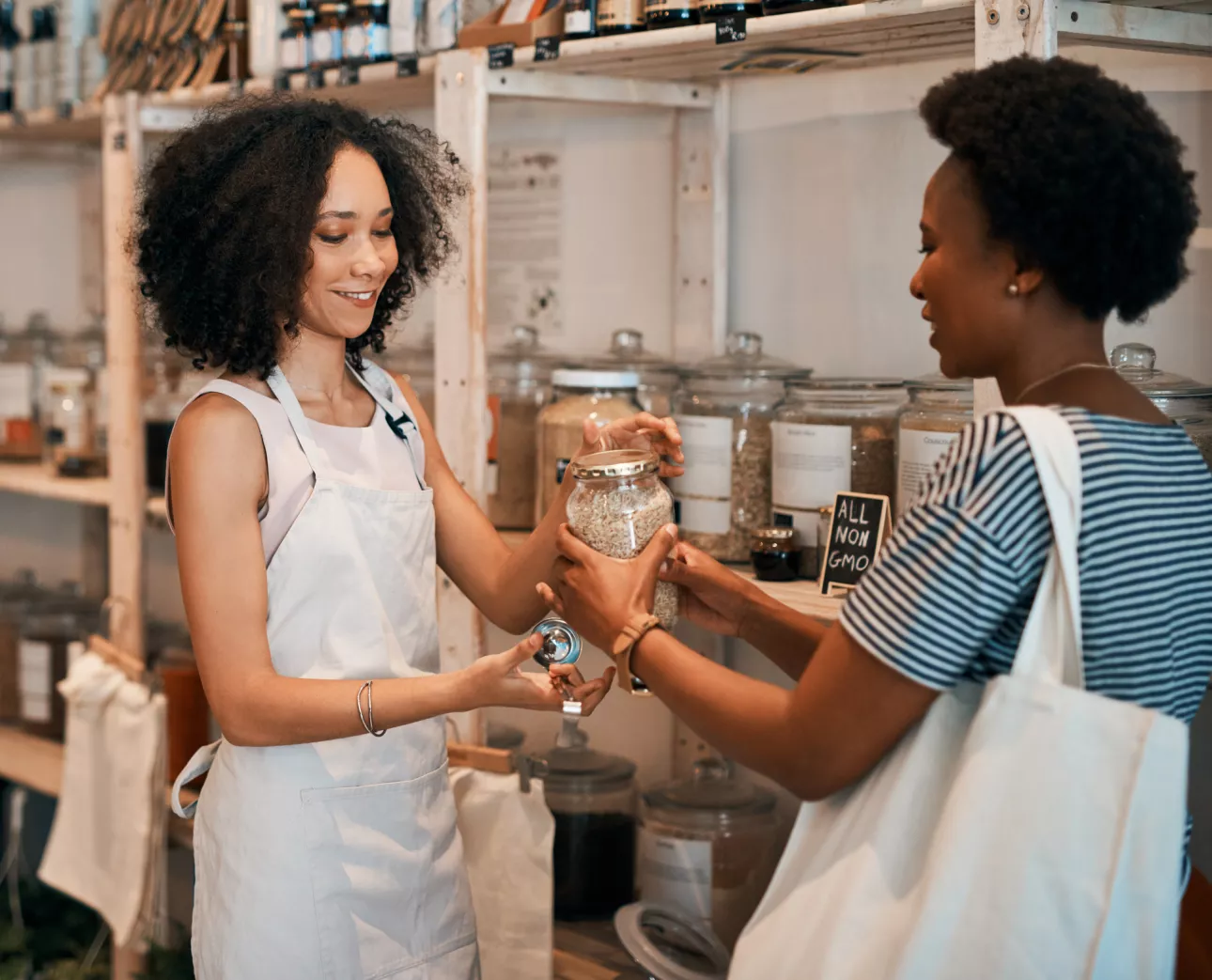 Three-quarters (76%) of consumers agree that companies have a general responsibility to 'do the right thing' for the environment and society.
When it comes to matters of environmental and social responsibility, consumers acknowledge that they have personal roles to play, but are also looking to companies, including brands, to do their part as well. As it turns out, action isn't necessarily about converting to B-Corp status – consumers are looking to brands to take smaller, more reasonable steps to make a big impact.
---
Making an effort
From consumers' POV, some of the most influential steps brands can take to become responsible are relatively … basic. Offering eco-conscious products, using recycled shipping materials, etc. could be easy wins for brands wanting to make a big impact with shoppers.
Most influential ways brands are becoming more responsible
All respondents
Offering environmentally-conscious products,

82%

Using recycled or recyclable shipping materials, 81%
Demonstrating efforts toward energy conservation, 79%
Offering products that support a cause, 78%
Partnering with relevant cause,

76%
Driving stickiness
While supporting environmental or social causes has its own merits, these efforts could pay dividends with shoppers (particularly younger cohorts) via enhanced loyalty and more frequent purchases.
ESG factors that influence shopping decisions
Strongly agree/agree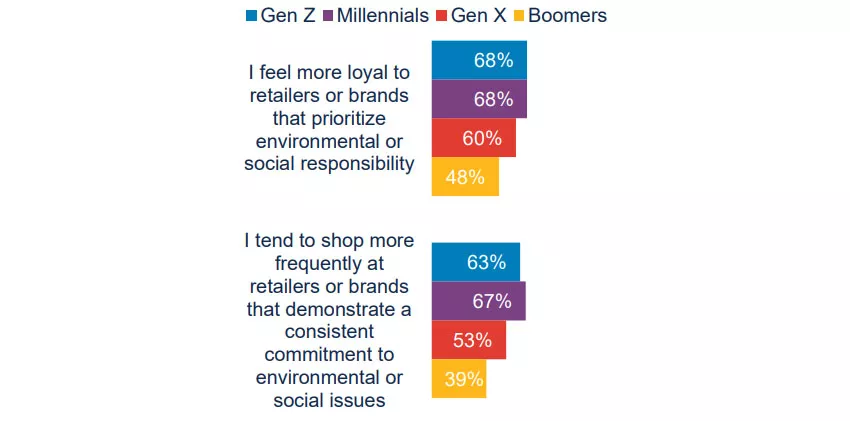 Communicating effectively
Eighty-eight percent of consumers indicated that they want to hear about brands' responsibility efforts. However, preferred avenues for updates vary by age.
Preferred communication channel for updates
Select channels shown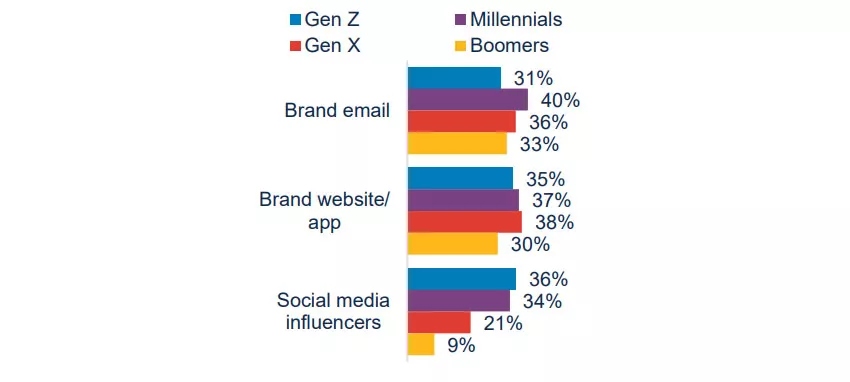 Key takeaway: Starting small to make a big impact
Consumers have indicated that reasonable, achievable actions to promote environmental and social responsibility are crucial. While 'small' steps like sustainable sourcing, using greener shipping materials and authentically supporting causes still take an investment to undertake, these are initiatives that leave consumers with visual cues that a company is doing the 'right thing.'
Source: Bread Financial proprietary study, Consumers + ESG survey, Aug-23.
About Bread Financial™
Bread Financial™ (NYSE: BFH) is a tech-forward financial services company providing simple, personalized payment, lending and saving solutions. The company creates opportunities for its customers and partners through digitally enabled choices that offer ease, empowerment, financial flexibility and exceptional customer experiences. Driven by a digital-first approach, data insights and white-label technology, Bread Financial delivers growth for its partners through a comprehensive product suite, including private label and co-brand credit cards, installment lending, and buy now, pay later (BNPL). Bread Financial also offers direct-to-consumer solutions that give customers more access, choice and freedom through its branded Bread Cashback™ American Express® Credit Card and Bread Savings™ products.
Headquartered in Columbus, Ohio, Bread Financial is powered by its 7,500+ global associates and is committed to sustainable business practices. To learn more about Bread Financial, visit BreadFinancial.com or follow us on Facebook, LinkedIn, Twitter and Instagram.