Nine in ten (88%) of back-to-school/college shoppers indicate that inflation is impacting their back-to-class spending, consistent with 2022 (87%).
While inflation at large has begun to ease, those planning to shop for back-to-school/college (BTS/BTC) this year are still feeling the residual effects on their wallets. As a result, spending plans have tempered compared to last year, and shoppers are sharpening their deal-seeking skills.
---
Keeping spending in check
About half (48%) plan to spend more on BTS/BTC purchases this year, down from 62% who spent more in 2022. Further, the top reasons to spend more are being driven by needs over wants: advancing students becoming more expensive (53%) and continued inflation (50%).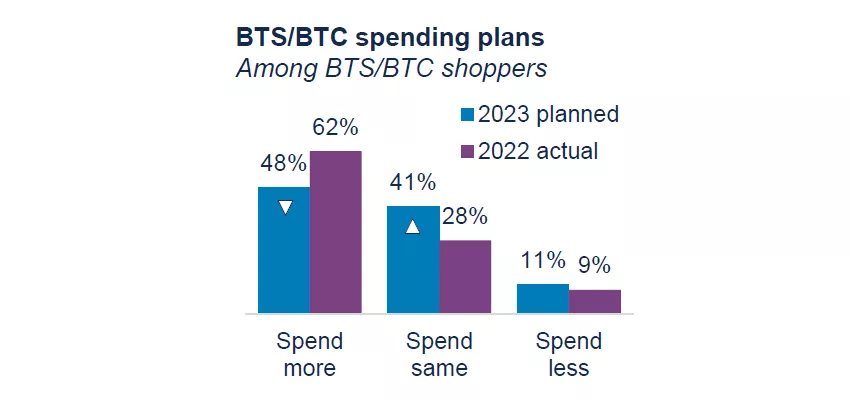 Watching for "prime" deal days
Three-quarters of shoppers (74%) have plans to seek deals and shop around for BTS/BTC, rising from the 69% who did so last year. This figure is largely being driven upward by sales events (like Amazon Prime Day) and a sharpened focus on discounts.
Paying with credit is clutch
While cash (including debit cards) will be king this year, credit continues to be a solid form of alternative payment. Intent to use both retail and bank-branded cards is on par with usage in 2022.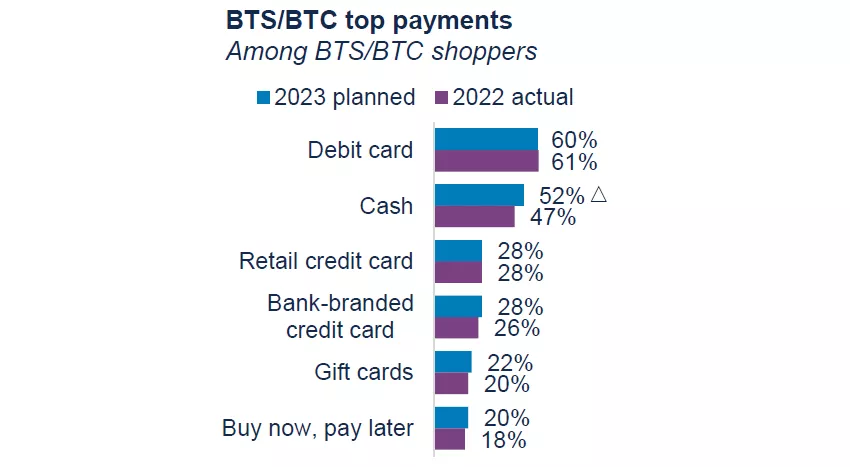 Keytakeaway: Winning back-to-class dollars
While inflation and key macroeconomic metrics, like consumer confidence, are showing signs of improvement, shoppers appear to be reining in spending where they can as they recover from the price hikes that have plagued them over the past two years. Brands vying for back-to-class dollars should lead with promotional strategies that appeal to the larger audience, but save the very best offers for their most loyal customers.
Source: Bread Financial proprietary study, Back-to-school/college Look Ahead survey, Jul-23. Arrows indicate significant differences vs. Bread Financial Back-to-school/college Hindsight survey, Sept-22.
---
About Bread Financial
Bread Financial™ (NYSE: BFH) is a tech-forward financial services company providings simple, personalized payment, lending and saving solutions. The company creates opportunities for its customers and partners through digitally enabled choices that offer ease, empowerment, financial flexibility and exceptional customer experiences. Driven by a digital-first approach, data insights and white-label technology, Bread Financial delivers growth for its partners through a comprehensive suite of payment solutions that includes private label and co-brand credit cards and Bread Pay™ buy now, pay later products. Bread Financial also offers direct-to-consumer products that give customers more access, choice and freedom through its branded Bread Cashback™ American Express® Credit Card and Bread Savings™ products.
Headquartered in Columbus, Ohio, Bread Financial is powered by its 7,500+ global associates and is committed to sustainable business practices. To learn more about Bread Financial, visit BreadFinancial.com or follow us on Facebook, LinkedIn, Twitter and Instagram.