With loan payments resuming, how are student loan payers* strategizing for holiday spending?
Those with student loan payments resuming in October are bearing an extra financial burden this holiday season, yet their preliminary holiday plans aren't necessarily bleak: 53% are set to spend "more" this holiday compared to last year, higher than the overall average for total holiday shoppers (33%). While this may be driven by their life stage (45% are millennials) and the presence of children (60% have kids under 18), student loan payers are also exhibiting unique behaviors for how they plan to approach the season and maximize dollars spent this year.
---
The early bird … shops around
Most student loan payers (59%) will have begun their shopping by the end of October, higher than average (50%). These early-bird tendencies may be driven in part by plans to take the time to research prices and shop around this year (40% vs. 32% average).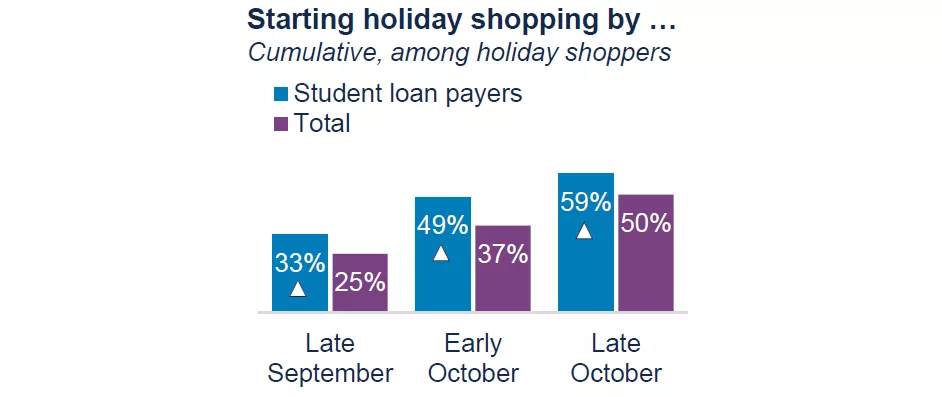 Gift lists get a trim
While student loan payers are planning to spend more on overall holiday purchases, 41% plan to cut back on the number of gifts they give this year (vs. 28% average). Their primary reason for doing so is to cut back on gift spending.
Put it on my gift card
Perhaps leveraging unused caches of "found" money, an outsized 36% plan to pay for holiday purchases with gift cards. Student loan payers are also more likely to eye financing tools like retail credit cards and buy now, pay later.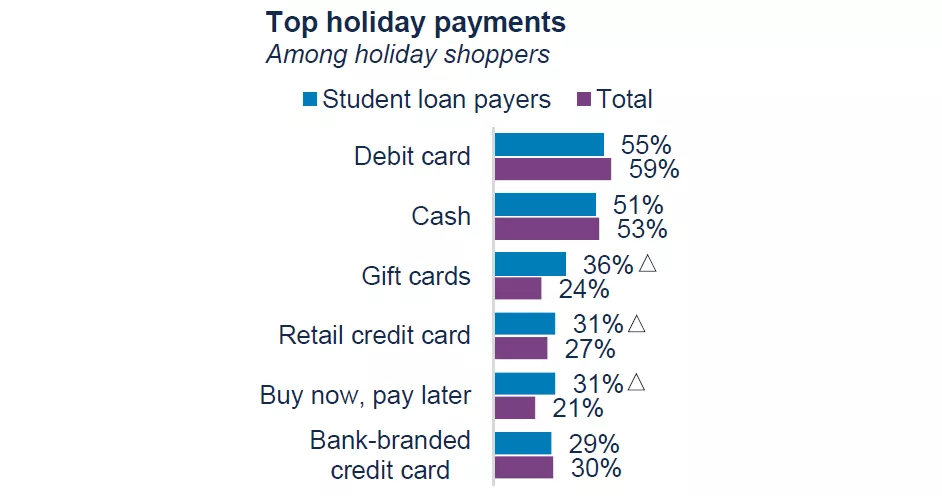 Key takeaway: Sparking holiday spending among student loan payers
While student loan payers have bullish preliminary plans to spend, they may become increasingly skittish as the reality of resuming student loan payments becomes more apparent in November and December. While it'll be important for brands to convey meaning and value with these shoppers, there may also be opportunity in offering appropriate financing vehicles (e.g., retail credit cards and buy now, pay later) to ultimately win the sale.
Source: Bread Financial proprietary study, Holiday Look Ahead survey, September 2023.
*Student loan payers: Holiday shoppers with student loan payments resuming in October 2023.
Arrows indicate significant differences vs. overall average for total holiday shoppers.
---
About Bread Financial™
Bread Financial™ (NYSE: BFH) is a tech-forward financial services company providing simple, personalized payment, lending and saving solutions. The company creates opportunities for its customers and partners through digitally enabled choices that offer ease, empowerment, financial flexibility and exceptional customer experiences. Driven by a digital-first approach, data insights and white-label technology, Bread Financial delivers growth for its partners through a comprehensive suite of payment solutions that includes private label and co-brand credit cards and Bread Pay™ buy now, pay later products. Bread Financial also offers direct-to-consumer products that give customers more access, choice and freedom through its branded Bread Cashback™ American Express® Credit Card and Bread Savings™ products.
Headquartered in Columbus, Ohio, Bread Financial is powered by its 7,500+ global associates and is committed to sustainable business practices. To learn more about Bread Financial, visit breadfinancial.com or follow us on Facebook, LinkedIn, Twitter and Instagram.