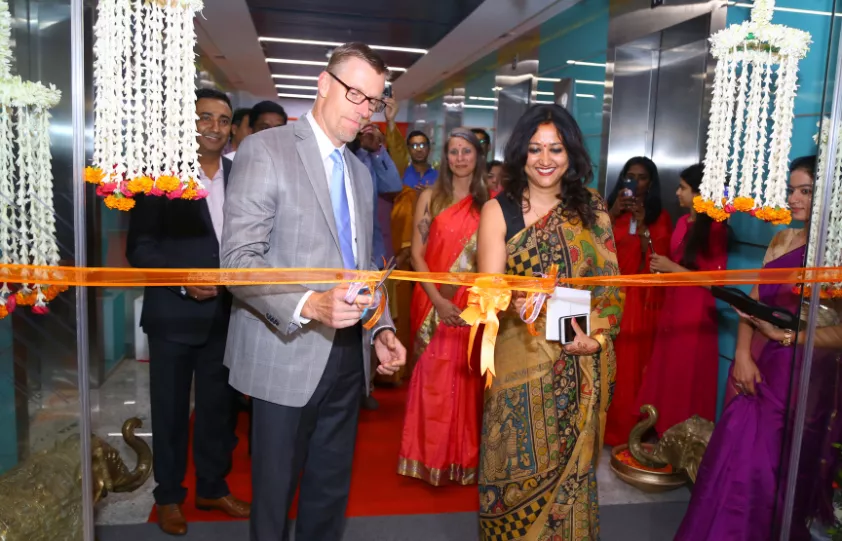 Erick Carter, senior vice president of enterprise delivery, drives growth for Bread Financial's international location
Officially opening its doors in July 2019, Bread Financial's Bangalore, India, office began operations with just a handful of associates. Today, under the leadership of Erick Carter, senior vice president of enterprise delivery, it is now home to more than 900 associates and a variety of important business functions including, marketing, IT and data analytics.
With a career journey that spans more than 30 years at Bread Financial, Erick is currently responsible for the Enterprise Services department, a compilation of different groups that enable and empower the organization such as customer experience, real estate and facilities, security, issues management and India operations.
Instrumental in the company's international expansion and with hundreds of associates from a variety of backgrounds under his purview, he recognizes the importance of diversity, equity and inclusion in the workplace and prioritizes agility, empathy and acceptance when leading a diverse associate population.
Learn more about Erick's career journey, his experiences in India and commitment to DE&I.
Could you share a little about your career journey at Bread Financial? What has kept you here all of these years?
I've been with the company for 33 years, starting as a front-line collections associate. I've had many roles with different levels of responsibility over the years and have spent time in human resources, real estate and facilities, legal and compliance, and I have been a site leader and a chief of staff. It might sound cliché, but the people have kept me here all this time. Even as the company has changed, we have always stayed true to our values and how we treat others.
Bread Financial began official India operations four years ago. What was your involvement and what is it like to lead associates outside of the U.S.?
In a previous role I managed a long-term relationship with a partner in Mumbai, so I knew the value and talent that those individuals brought from an operations perspective. Several years prior to opening a physical office, we began exploring opportunities beyond operations and started a pilot program in 2017. It worked extremely well for us, so we established a legal entity in 2018 and opened our own office space in 2019. One of my proudest moments was being there to dedicate our new facility with a puja ceremony.
It's been an honor to lead our Bangalore associates, and I've grown to appreciate both the similarities and differences in cultures. My role is to support the team, provide guidance and help set them up for future growth and success. We recently earned the Great Place to Work® Certification in India for our company culture, and that represents the hard work of our associates and how far we have come in the past several years.
How has your leadership style changed since managing an international associate base?
I realized that there is always more to learn. The sharing of ideas, backgrounds and experiences is so important, and it's the responsibility of the leader to make sure employees feel like they have a seat at the table. I'm not perfect, but I always try to listen and make sure to have a well-rounded perspective when making decisions. Communication and transparency are also critically important when managing international associates. There are logistical barriers such as time differences but associates still deserve to feel connected and part of the company regardless of where they are.
I had never left North America before we expanded, and now I've been able to visit our India site multiple times. It's very different from everything I was used to – from culinary tastes to history and traditions – but I've loved watching our two cultures come together. Different things are important to Indian associates compared to the U.S., but the desire to grow, learn and develop is so strong. I don't look like them. I don't come from the same background. But they have welcomed me with warmth and open arms, and to me that's DE&I in action.
You are also the executive sponsor of the Asian Alliance Business Resource Group (BRG), how did that come about?
I was approached about two years ago to consider becoming an executive sponsor. Knowing my role and the different groups I work with, the Asian Alliance BRG seemed like a natural fit. As a sponsor, I meet regularly with the BRG president and leadership team to review any plans or ideas and offer my support and guidance. I also work closely with the DE&I Office to ensure that we're aligning to any broader initiatives and are plugged in to what the organization is looking to accomplish.
It is critically important that senior leaders show their support for the BRGs and DE&I in general. What makes Bread Financial stand out is that there is already buy-in from the top to support DE&I initiatives, but having leaders become more involved and "walk the walk" helps facilitate an engaged, supported culture where associates really feel accepted for who they are.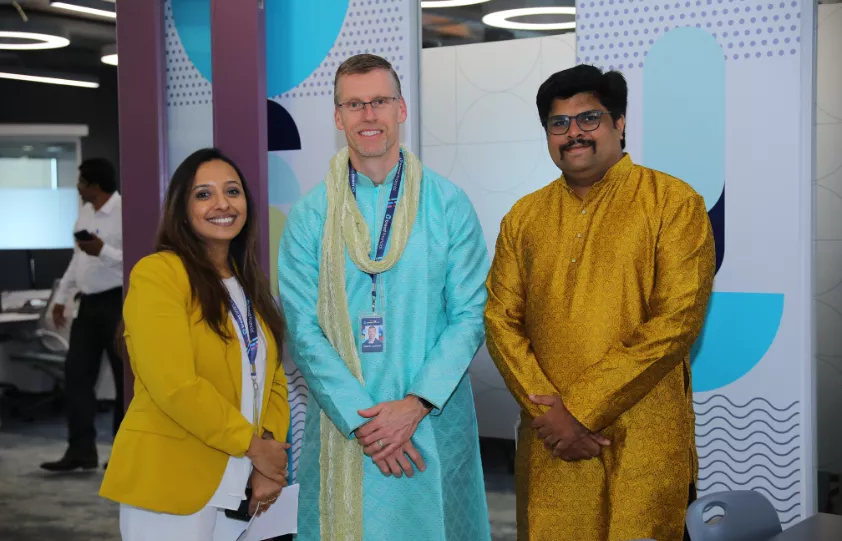 About Bread Financial™
Bread Financial™ (NYSE: BFH) is a tech-forward financial services company providing simple, personalized payment lending and saving solutions. The company creates opportunities for its customers and partners through digitally enabled choices that offer ease, empowerment, financial flexibility and exceptional customer experiences. Driven by a digital-first approach, data insights and white-label technology, Bread Financial delivers growth for its partners through a comprehensive suite of payment solutions that includes private label and co-brand credit cards and Bread Pay™ buy now, pay later products. Bread Financial also offers direct-to-consumer products that give customers more access, choice and freedom through its branded Bread Cashback™ American Express® Credit Card and Bread Savings™ products.
Headquartered in Columbus, Ohio, Bread Financial is powered by its 7,500+ global associates and is committed to sustainable business practices. To learn more about Bread Financial, visit BreadFinancial.com or follow us on Facebook, LinkedIn, Twitter and Instagram.