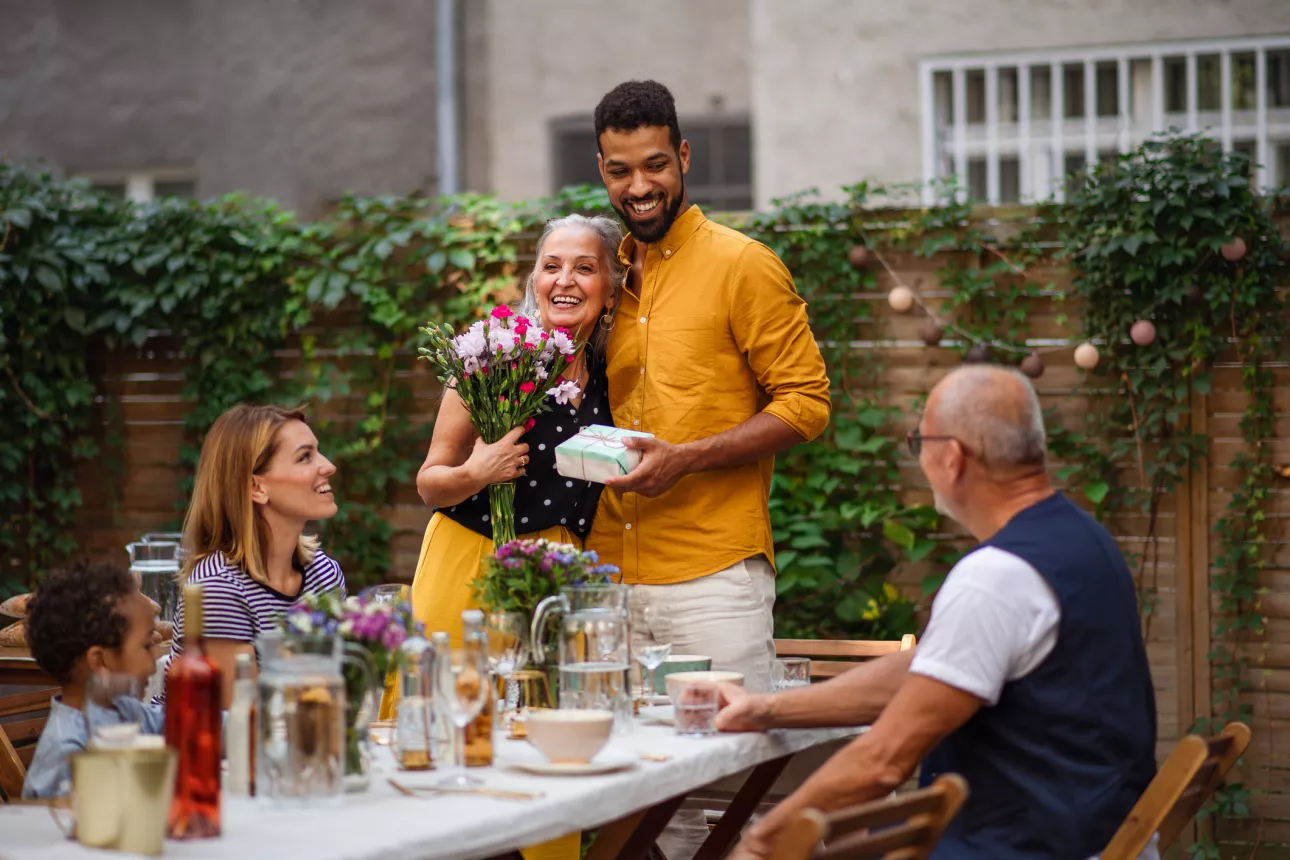 Across generations, Mother's Day holds sentimental meaning
With Mother's Day on the horizon, the vast majority of holiday shoppers* view the day as having some special meaning (95%) versus it being another "Hallmark" holiday (5%, consistent across generations). Three-quarters (76%) indicate that it's a special day to celebrate the mothers in their lives, 38% report that it's an important day to remember the mothers in their lives, while 23% believe it's the perfect day to celebrate themselves.
Shoppers plan to shower mom with spending, but inflation is a significant factor
While inflation still weighs heavily on shoppers, two in five (40%) Mother's Day shoppers plan to spend more this year. This spending sentiment is significantly higher among Gen Z adults (52%) and millennials (56%), compared to their older cohorts, Gen X (33%) and baby boomers (19%). Among Mother's Day shoppers planning to spend more, the majority (66%) say they are doing so because they want to rather than because they need to due to inflation (34%).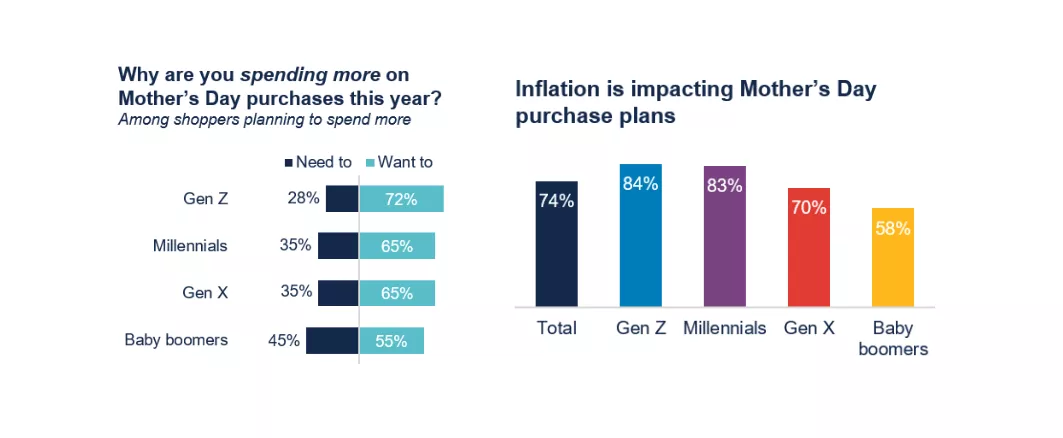 Smart shopping strategies to prevail as shoppers pick the perfect gifts for mom
Look for shoppers to rely on smart shopping habits to stretch their dollars as inflation continues. One-third (32%) of Mother's Day shoppers plan to watch for price discounts as a means to save, while 25% intend to set a strict budget and 24% are considering less expensive gift options. Additionally, one in five (19%) will be watching for special financing terms – this figure is significantly higher among Gen Z (26%) and millennial (30%) shoppers.
Many Mother's Day shoppers are marking the day with experiences
While the majority of celebrants (64%) plans to purchase traditional gifts, cards and/or flowers for the moms in their lives this year, many will also be marking the day with special experiences. Dining out at a restaurant (41%), cooking a special meal at home (37%) as well as shopping in store or online (39%) continue to be perennial favorites. One in five (18%) is planning to do something special for the holiday, like visiting a spa, park or museum, while more than one in ten (15%) plans to take a Mother's Day trip or vacation. Millennials are about twice as likely than average to be planning for special outings and trips.
Intent to use retail credit, BNPL for Mother's Day purchases is on the rise versus 2022
Debit cards (48%) and cash (42%) are the top ways Mother's Day shoppers will pay for their purchases this year, followed by bank-branded credit cards (28%). Notably, cash as a payment vehicle is up significantly year over year, perhaps signaling shoppers' intentions to stick to a budget. At the same time, though, shoppers are showing increasing interest in retail credit (22%) and buy now, pay later (BNPL, 18%), which could help them flex their budgets with additional purchasing power. And as with the case of retail credit, the ability to earn/burn rewards or receive a special cardholder discount could be viewed as an enticing way to save a few extra dollars.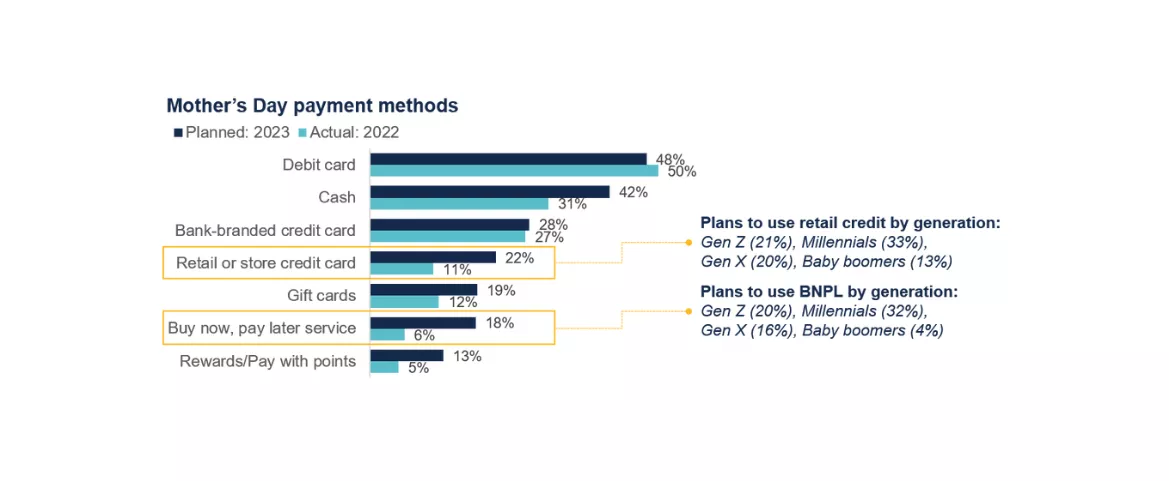 Millennials to treat themselves
Millennials are 50% more likely to be planning to self-gift this Mother's Day (27%) compared to average (18%). Why? With this generation in their prime child-rearing years, Mother's Day is the perfect opportunity to celebrate themselves.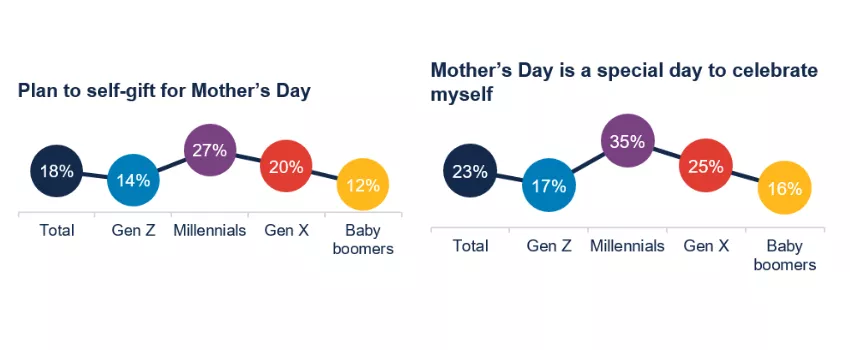 Key takeaway
While it's clear that shoppers are still grappling with inflation, Mother's Day hold special meaning for many who want to celebrate the moms in their lives – and that is likely to encourage spending. Expect shoppers to be enticed by special offers, discounts and deals that help stretch their dollars. These smart-shopping behaviors are likely to continue through the summer months as economic conditions remain nebulous.
---
About Bread Financial™
Bread FinancialTM (NYSE: BFH) is a tech-forward financial services company providing simple, personalized payment, lending and saving solutions. The company creates opportunities for its customers and partners through digitally enabled choices that offer ease, empowerment, financial flexibility and exceptional customer experiences. Driven by a digital-first approach, data insights and white-label technology, Bread Financial delivers growth for its partners through a comprehensive product suite, including private label and co-brand credit cards, installment lending, and buy now, pay later (BNPL). Bread Financial also offers direct-to-consumer solutions that give customers more access, choice and freedom through its branded Bread CashbackTM American Express® Credit Card and Bread SavingsTM products. Headquartered in Columbus, Ohio, Bread Financial is powered by its 6,000+ global associates and is committed to sustainable business practices.
---
*Bread Financial's online survey of 1,671 U.S.-based Mother's Day shoppers was conducted April 11-13, 2023.