In celebration and remembrance of Dr. Martin Luther King Jr. and his many contributions to American society, Tez Reardon, Sr. Manager of Diversity, Equity and Inclusion, hosted a panel discussion with Bread Financial associates to reflect on their personal experiences, the importance of Dr. King's legacy, and Bread Financial's commitment to promoting inclusion, equality and respect for all. Panelists included: Kristy Smallwood (VP of Collections), Margaret Hightower (Business Risk and Control Advisor) and Chris Dilver (Facilities Manager).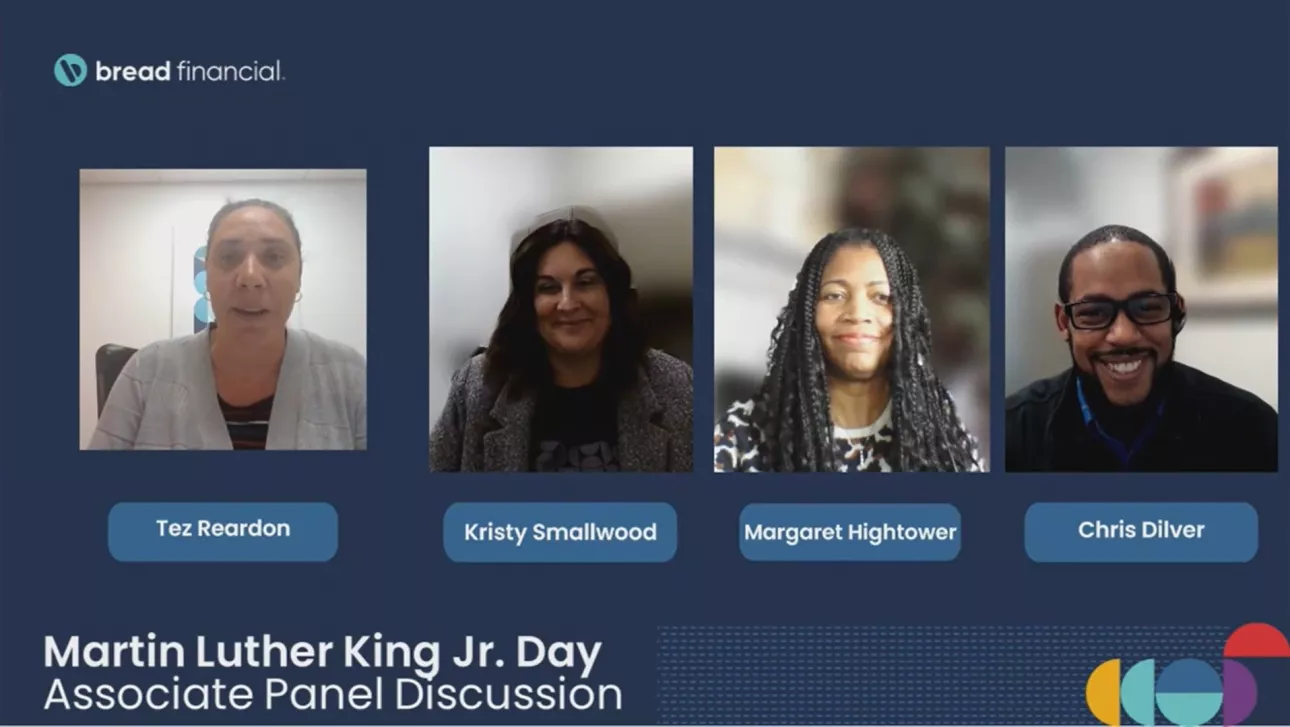 *Editor's note: some responses have been edited for brevity and clarity. Watch a highlight video of the panel on YouTube.
Tez: As you think back on Dr. King and what you've learned, what did his message mean to you growing up?
Kristy: I always had an understanding of Martin Luther King's work and knew the speech, but I didn't have a full appreciation for what it embodied until later in life when I met my husband and entered into an interracial relationship. I've spent time trying to understand some of the things that he faced growing up in a white community with different views on race. For example, he was not allowed to wrestle in grade school – and he is only in his 40s. Hearing some of those stories put things into perspective for me and gave me a greater appreciation for why the words and work of Martin Luther King Jr. are so important. Having a biracial daughter and watching things through her eyes has also given me just a greater perspective on life.
Tez: In 2021, Bread Financial launched its DE&I office and we've shared our strategy and goals around equity, inclusion and diversity. What are some of the ways that Dr. King's teaching are being carried out at Bread Financial?
Margaret: It's carried out each day in our culture and values. Adding the DE&I office and council was huge. I've been with the company for more than 30 years, and I think of our values of "be real" and "be kind and pay it forward" and how all associates are encouraged to be their authentic selves. It's important to treat others with respect and embrace differences to spark change that drives good for all. I think Bread Financial's culture embodies Dr. King's work.
Chris: It was humbling to see our CEO Ralph (Andretta) come in and own DE&I. Adding Martin Luther King Jr. Day and Juneteenth as observed company holidays was a little thing that spoke volumes. Also knowing that his leadership cascades down to all levels of the company. His message is sound – make sure that we're caring for each other and carrying out Dr. King's message so we can bring some of these goals to fruition.
Tez: Thinking specifically on Martin Luther King Jr.'s "I have a dream" speech, what can we do to help continue the vision Dr. King had so many years ago and bring it to life now?
Kristy: Education is vital. If something happens to you, you can respond with the same hate that is given to you, but I think it's important to take a step back and understand that maybe that person isn't a hateful person but rather uneducated or unaware.
Tez: Any closing thoughts as we reflect and prepare for Martin Luther King Jr. Day?
Chris: Compassion for others, that's the biggest thing I've pulled away from his teachings. Whether it be something you're not comfortable with or what have you, always have compassion on your side.
Kristy: Take the day and try to educate yourself. If you're unsure how to do that, I would recommend the book "Uncomfortable Conversations with the Black Man." It gives a great perspective on things that happen or things that people say that they don't mean. Educate yourself and open your eyes to different perspectives and I think we can make the world a little bit better place.
Margaret: Dr. King taught us to never quit – just keep moving forward. I tell everyone, "keep moving forward, be open and try."