Despite an uncertain economic outlook, Valentine's shoppers plan record spending
As Valentine's Day approaches, consumer spending for the holiday is expected to reach a record high this year. The National Retail Federation is forecasting Valentine's Day sales to reach $25.9 billion, rising $2.0 billion from 2022's anticipated spend. On a per-person basis, spending is expected at $192.80, rising from $175.41 last year.
Love is all around this year … though perhaps less so among baby boomers
Bread Financial's proprietary Valentine's Day Look Ahead survey* confirms the NRF's outlook. Nearly two in five (39%) Valentine's Day shoppers plan to spend more this year. This spending sentiment is particularly apparent among Gen Z adults (49%) and millennials (50%), rather than their older counterparts, Gen X (32%) and baby boomers (24%). Among Valentine's shoppers planning to spend more, the vast majority (82%) say they are doing so because they want to rather than because they need to due to inflation (18%) – so it appears there's a desire to spend on loved ones this year, despite inflation.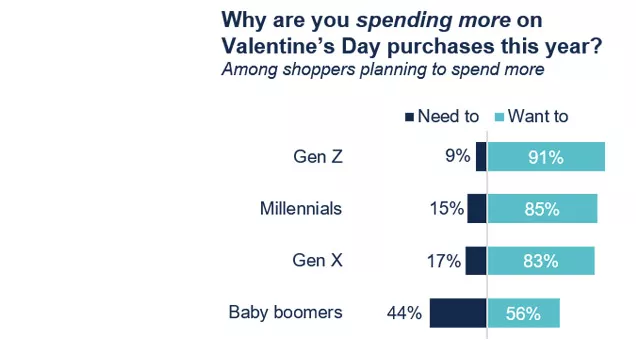 However, shoppers would love to break up with inflation
Although shoppers have a desire to spend, inflation is still impacting Valentine's Day purchase plans. Three-quarters of Valentine's shoppers (76%) say price hikes are factoring into their plans, and this figure rises significantly among younger generations (see below). Watching for price discounts (33%) is shoppers' most popular plan for counteracting inflation, followed by considering less expensive gift options (23%) and setting strict budgets (23%). Nearly one in five (18%) also plans to watch for special financing terms; this is particularly prevalent among Gen Z (25%) and millennials (27%).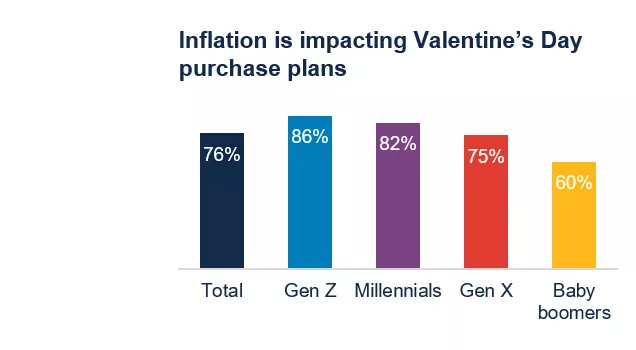 Valentine's shoppers are planning to spend on gifts and experiences this year
While the majority of celebrants (69%) plan to purchase traditional gifts, cards and/or flowers for their loved ones this year, they also plan to spend on special experiences. Dining out at a restaurant (51%) or cooking a special meal at home (38%) will be popular ways to mark the occasion among celebrants of all ages. About a third (33%) is planning to do something special for the holiday, like visiting a spa, park or museum, while more than one in ten (16%) plans to take a Valentine's trip or vacation. Special outings and trips are of specific interest among Gen Z and millennials.
Valentine's shoppers are showing increasing affection for retail credit, BNPL
Debit cards (48%) and cash (41%) are the top ways Valentine's shoppers will pay for their purchases this year, followed by bank-branded credit cards (25%). Notably, cash as a payment vehicle is up significantly year over year, perhaps signaling shoppers' intentions to stick to a budget. At the same time, though, shoppers are showing increasing interest in retail credit (22%) and buy now, pay later (BNPL, 15%), which could help them flex their budgets and give them access to additional purchasing power. And as with the case of retail credit, the ability to earn/burn rewards or receive a special cardholder discount could be viewed as an enticing way to save a few extra dollars.

Valentine's Day personalities
When asked about their feelings towards Valentine's Day, shoppers (39%) were most apt to say they were hopeless romantics. Younger generations drove this sentiment.
Key Takeaway
While the overall retail outlook for 2023 is still nebulous, Valentine's Day spending plans are giving us clues about how shoppers are approaching spending now, which could carry forward through the year. As shoppers continue to be impacted by inflation, deal-seeking is likely to prevail to stretch budgets, as are financing tools like retail credit and BNPL. For brands, it'll be important to effectively communicate payment options – and their benefits – to shoppers whenever and however they choose to shop.
*Bread Financial's online survey of 2,244 U.S.-based Valentine's Day shoppers was conducted January 10-11, 2023.
©2023 Bread Financial | Confidential & Proprietary