When Stephanie Kelly was approached about joining Women Connect – a Business Resource Group (BRG) at Bread Financial for women and their allies – she dove in headfirst, jumping straight into a leadership role as membership lead.
"Before Women Connect, I had leaders and colleagues at the company who supported and inspired me," said Stephanie, a national engagement manager at Bread Financial. "I've always tried to do that for others, but it was always at the one-to-one level. Being a female associate and part of Women Connect has connected the dots for me. Now, I'm exposed to women at all levels of the business, and I can apply what I've learned to give more women a voice."
In her first year, Stephanie grew the BRG membership by 48% before serving in her current role as president, crediting her passion for empowering women to her daughters.
Image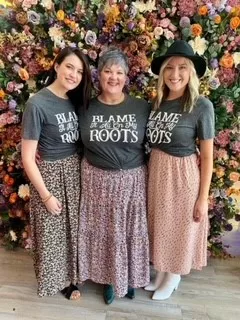 "Becoming a mother changed my life," said Stephanie. "There was a point when I was a single parent, and I had to learn how to balance family and work while holding myself accountable. I didn't realize it then; however, I do now that my daughters are adults, how important it is to find balance and be honest and open in your communication. You can make mistakes, but you need to learn from them. I'm proud to have given them that perspective and of the amazing women they have become."
Leaning on her experiences as a parent and having worked in environments she classifies as "boys clubs," Stephanie takes to heart the opportunity to lead an organization that helps women accomplish their personal and professional goals.
"I've watched women do things they shouldn't need to do to get ahead or even level the playing field, and it gives you an uneasy feeling," she said. "That's not for me. I don't want that for my daughters or anyone. It means so much to work for a company that prioritizes women and gives us an outlet to be our best selves."  
Learn more about Women Connect and its celebration of Women's History Month in the Q&A with Stephanie below.
What is the purpose of Women Connect and what are its goals?
Women Connect is a space for Bread Financial women (and men!) that encourages and facilitates the growth, development and wellbeing of women at the office and in our communities. We are a diverse group – from our ethnicity to our ideas – but we share the goal of advancing women in all aspects of their lives.
What are some of the changes that have resulted because of Women Connect?
We give women another outlet to voice their ideas and issues, and it is not uncommon for Women Connect to serve as a springboard to leadership. We also make a point to live Bread Financial's values and amplify the ways the company empowers its female associates. 
How has Women Connect evolved over the years?
We're the largest and one of the first BRGs at Bread Financial, and we have more than 400 members! When Women Connect started, we were limited to in-person meetings at our Easton campus in Columbus, Ohio. However, we knew that to be diverse and inclusive, we needed to reach associates at all locations and levels of the business. An unforeseen benefit of the pandemic is we now have the tools to meet, reach and engage with associates wherever they are. I'm proud of our growth, and I'm excited that we even have members as far away as Bangalore, India!  
What events have taken place during Women's History Month?
Our goal this March has been to facilitate the wellness, personal development and financial literacy of all Bread Financial associates, and it has been a busy month! We started our celebration with a panel I led that discussed our executive sponsors' mentors and career journeys. Throughout the rest of the month, we highlighted our diverse members and shared stories of the women who inspired them, held a book club discussion and are hosting a training on one of the career development tools at Bread Financial to close the month. In the community, we held two opportunities for associates to join a Habitat for Humanity Women Build project that benefited a single mother and her three children, and it was so special to see women be strong in a different way. 
Image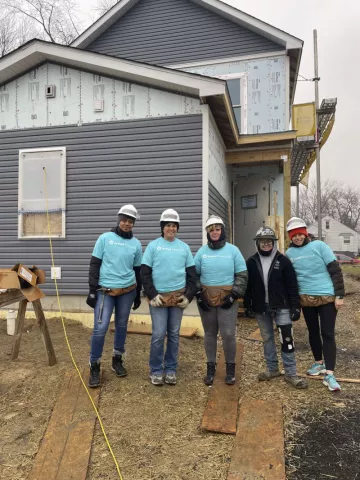 What has Women Connect meant to you?
Professionally, it's a way for me to be active at work and connect with new people across the business. I love the sharing of knowledge and growth that Women Connect facilitates and its domino effect to creating a better company and community.
What can associates interested in joining Women Connect expect?
Connectedness! We meet virtually as a group once a quarter, but we have a lot of activities outside of Women's History Month like our book club, development community and give back events! We also have a very active Teams chat channel where members can receive updates, share what's on their minds and have some fun. 
The level of involvement is up to each member, but I believe we have something for everyone, and if we don't, we'll fill the gap. For example, a member asked me if we had a mentorship program. I said, "No, we don't. But we can. Would you like to be part of starting one?"
About Bread Financial™   
Bread Financial™ (NYSE: BFH) is a tech-forward financial services company providing simple, personalized payment, lending and saving solutions. The company creates opportunities for its customers and partners through digitally enabled choices that offer ease, empowerment, financial flexibility and exceptional customer experiences. Driven by a digital-first approach, data insights and white-label technology, Bread Financial delivers growth for its partners through a comprehensive suite of payment solutions that includes private label and co-brand credit cards and Bread Pay™ buy now, pay later products. Bread Financial also offers direct-to-consumer products that give customers more access, choice and freedom through its branded Bread Cashback™ American Express® Credit Card and Bread Savings™ products.
Headquartered in Columbus, Ohio, Bread Financial is powered by its 7,500+ global associates and is committed to sustainable business practices. To learn more about Bread Financial, visit BreadFinancial.com or follow us on Facebook, LinkedIn, Twitter and Instagram.