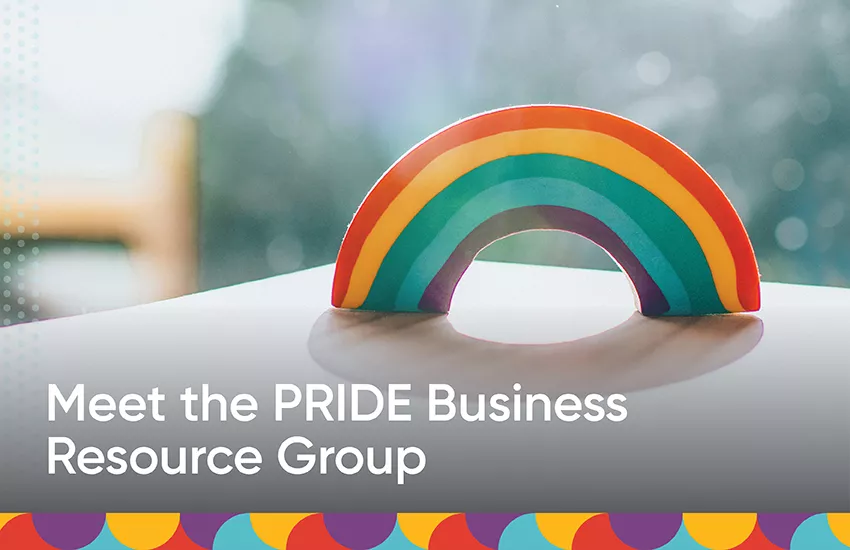 When Adam Siwy's colleague Stephanie Kelly joined Bread Financial's Business Resource Group (BRG) for women, he quickly noticed the immediate positive impact it made on both her personal and professional life.
"I saw everything that Stephanie was able to do with Women Connect, and how fulfilled she was, and it made me excited," said Adam, a National Field Engagement Manager at Bread Financial. "I wanted something like that for myself. The PRIDE BRG was something I could relate to, and I decided to jump in headfirst."
Adam concurrently joined the leadership team of the PRIDE BRG, a group for LGBTQ+ associates and their allies, as vice president. Now serving as president of the BRG, he works tirelessly to create a safe and inclusive space for its more than 150 members.
"There was an opening on the leadership team, and I decided that if I was going to do it [join the BRG], I was going to fully commit," he said.
In his full-time role, Adam works directly with Bread Financial brand partners to implement in-store payment solutions. Working alongside individuals from a variety of backgrounds, he leads by quiet example when representing the company and its values, taking a similar approach to his leadership style with the BRG as he works behind the scenes to foster an inclusive workplace.
"Sometimes things that may seem small can make all the difference when it comes to someone feeling accepted," he said. "You can send a message without saying anything. I think that's so important to remember. The opportunity to make a difference is what has kept me at the company for nearly a decade."
Learn more about the PRIDE BRG and its celebration of Pride Month in the Q&A with Adam below.
What is the purpose of the PRIDE BRG and what are its goals?
The goal of PRIDE is to promote and support LGBTQ+ associates and their allies by fostering an inclusive, safe and open environment. We provide educational initiatives, networking opportunities and volunteer events that are open to all members regardless of sexual orientation, gender identity or gender expression.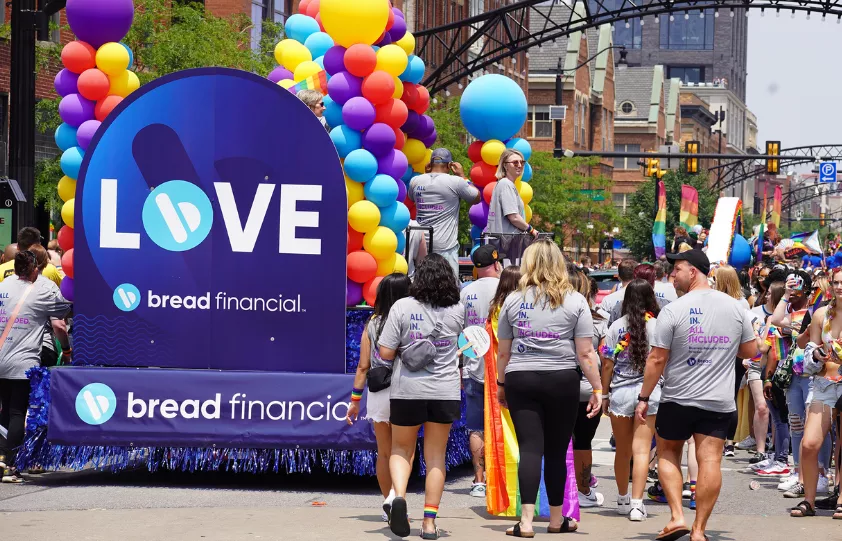 Have there been any changes at Bread Financial that were driven by PRIDE?
One of the biggest things we were able to influence was raising the progressive Pride flag at Bread Financial locations during June. Last year, the BRG leadership team went to our executive sponsors with the idea, and within a matter of days we had approval from our CEO, Ralph Andretta. That was a really big thing for the organization and an important display of our inclusive culture. This year, for locations without a flagpole, we also displayed the flag inside.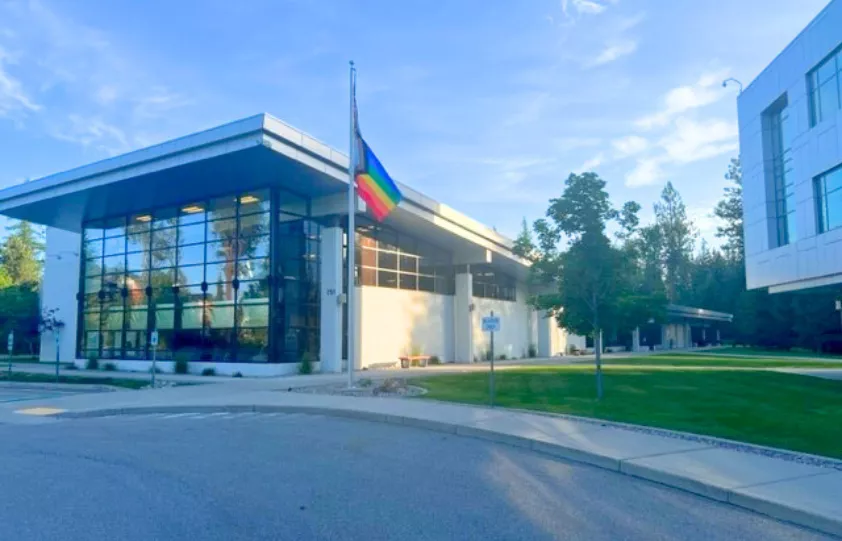 We have also fostered a number of important conversations. The Diversity, Equity and Inclusion (DE&I) office enabled the option for associates to add their pronouns to their email signature. On the heels of that, we hosted an educational coffee chat about pronouns, and we work closely with the DE&I office to make sure associates feel comfortable with the programming we offer.
How have you seen the BRG evolve?
I think the biggest evolution is how all of our BRGs are now more intertwined. If you think about it, associates don't belong to just one group. In partnership with the DE&I office, BRG leaders have been making a deliberate effort to work together to meet common goals. For example, we're planning a back-to-school event and will partner with the Family Matters BRG. That's the biggest growth I've noticed, and I think it makes a lot of sense.
What events took place during Pride Month?
We kicked off the month by raising or displaying the Pride flag at all of our office locations. Throughout the month we offered self-led educational videos designed to help associates cultivate understanding, inclusivity and allyship with the LGBTQ+ community, and we also hosted webinars on non-binary and gender-neutral language and personal brand building. More than 70 associates walked in the Columbus Pride March, and members of the PRIDE and Hispanic/Latine BRGs in Lenexa, Kansas, coordinated a group of associates to represent Bread Financial at the Kansas City Pride March for the first time. The two groups raised their hands to be more involved in the community, and that's another example of the cross-collaboration we're creating between the BRGs.
Also in June, Bread Financial joined other large businesses across the country as a member of the #CountUsIn coalition. It was really exciting to see us reaffirm our commitment to LGBTQ+ inclusion and equality and the important work being done by the Human Rights Campaign and GLAAD.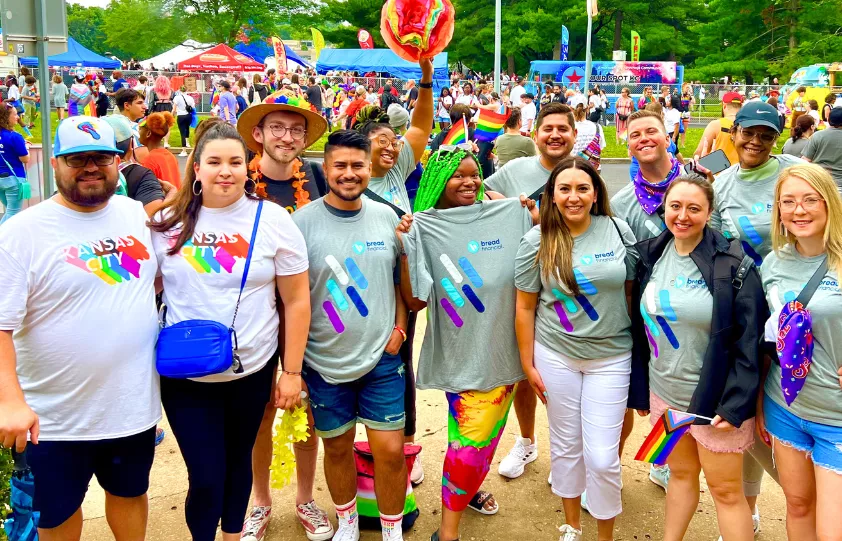 What can an associate interested in joining the PRIDE BRG expect?
Community, education and inspiration. Everyone is welcome and that feeling is palpable. We obviously have a lot of events in June, but we meet at least quarterly, and there are a variety of events held throughout the year. With so much of our workforce either working from home or in a hybrid role, we try to make our programming accessible to everyone.
About Bread Financial™
Bread Financial™ (NYSE: BFH) is a tech-forward financial services company providing simple, personalized payment, lending and saving solutions. The company creates opportunities for its customers and partners through digitally enabled choices that offer ease, empowerment, financial flexibility and exceptional customer experiences. Driven by a digital-first approach, data insights and white-label technology, Bread Financial delivers growth for its partners through a comprehensive product suite, including private label and co-brand credit cards, installment lending, and buy now, pay later (BNPL). Bread Financial also offers direct-to-consumer solutions that give customers more access, choice and freedom through its branded Bread Cashback™ American Express® Credit Card and Bread Savings™ products.
Headquartered in Columbus, Ohio, Bread Financial is powered by its 7,500+ global associates and is committed to sustainable business practices. To learn more about Bread Financial, visit BreadFinancial.com or follow us on Facebook, LinkedIn, Twitter and Instagram.