Back to Press & News
Partnerships
March 14, 2023
Cleveland Cavaliers announce Bread Financial™ as "Official Buy Now, Pay Later Partner"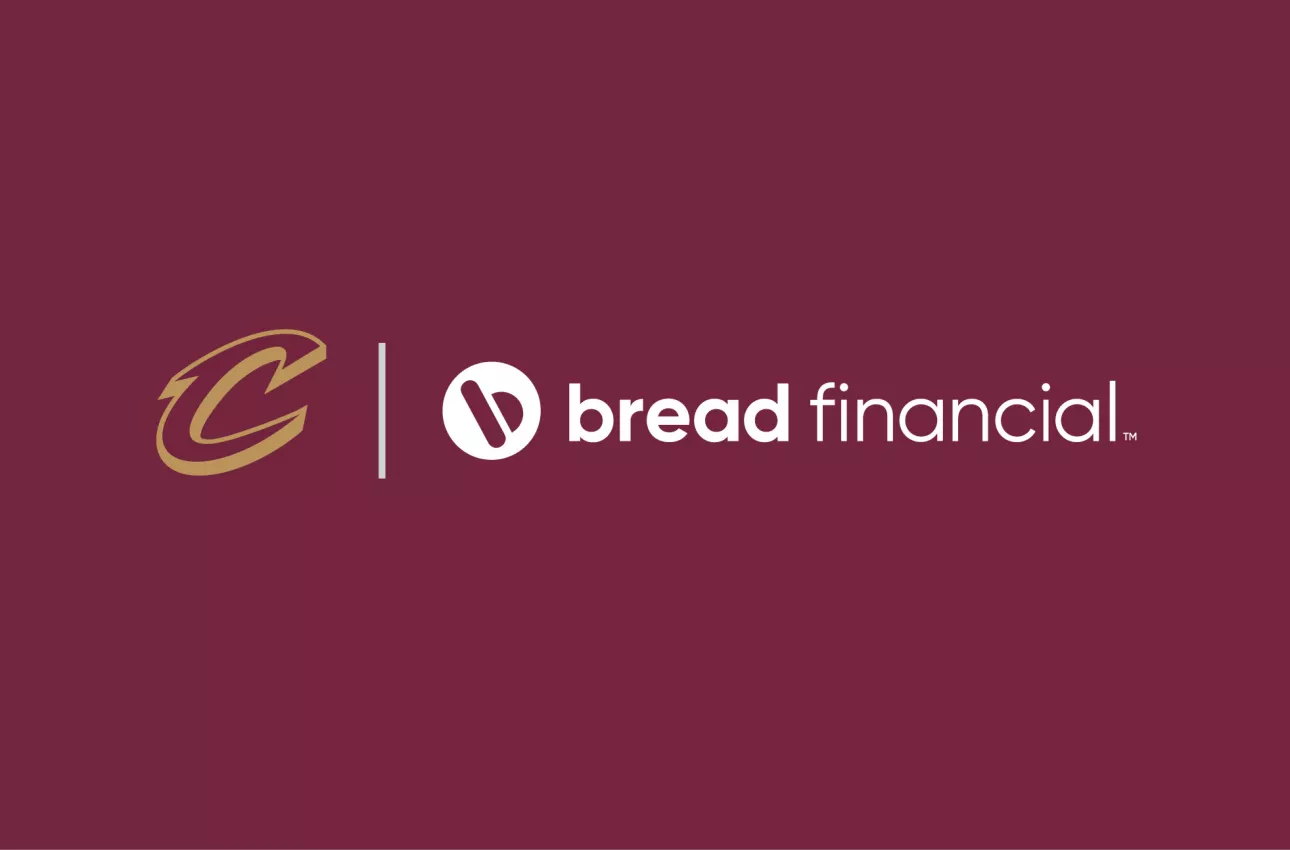 CLEVELAND, OH – March 14, 2023 – The Cleveland Cavaliers today announced a new multi-year agreement with Bread Financial (NYSE: BFH), a tech-forward financial services company that provides simple, personalized payment, lending and saving solutions, to be its "Official Buy Now, Pay Later (BNPL) Partner" and offer Bread Pay™ to fans. The sponsorship will bring the Bread Financial brand to life both digitally and inside Rocket Mortgage FieldHouse throughout the remainder of the 2022-23 season and beyond. The Columbus-headquartered company also plans to co-host future initiatives with the Cavs that ladder to the shared sustainability, and diversity, equity and inclusion (DE&I) commitments of both organizations.
As the first official BNPL payment option for the Cavaliers, fans can apply for Bread Pay, which allows them to split payments into equal installments, for merchandise and apparel purchases on the Cavaliers Team Shop website. Additionally, Bread Financial and the Cavaliers will host three "Bread Drops," which are limited-edition merchandise releases, throughout the remainder of the 2022-23 season. Fans using Bread Pay to purchase the merchandise will gain exclusive presale purchase access.
"Bread Financial is thrilled to be joining forces with the Cavaliers to offer BNPL to their fans while also partnering to invest in our communities," said Nick Antonelli, SVP and chief marketing officer of Bread Financial. "Both of our organizations share a strong commitment to sustainability and DE&I, and we look forward to demonstrating those core tenants together in our efforts across Ohio communities."
Bread Financial is thrilled to be joining forces with the Cavaliers to offer BNPL to their fans while also partnering to invest in our communities."
Nick Antonelli - SVP and Chief Marketing Officer, Bread Financial
"We are proud to add Bread Financial, an Ohio-based financial services company, to the Cavaliers family," said Shelly Cayette, Cleveland Cavaliers Executive Vice President and chief commercial officer. "Their innovative approach to payment solutions for customers and their commitment to improving the communities they serve aligns closely with who we are as an organization. Through this unique relationship with Bread Financial, we can offer an added layer of purchasing flexibility to create an even more seamless and convenient experience for our fans."
Bread Financial will also sponsor the Cavs Legion within the NBA 2K League with a patch on the team's game jersey and digital placements visible throughout their esports season.
Aspects of the relationship are already well underway, as Bread Financial recently hosted two "City Editions" nights benefitting The Nature Conservancy's Plant a Billion Trees campaign. Donating $2 (the cost to plant a tree) for every fan in attendance, Bread Financial has contributed nearly $78,000 to date. The final event of the season will take place Friday, March 17 when the Cavaliers host the Washington Wizards at 7:30pm ET.
About the Cleveland Cavaliers
The Cleveland Cavaliers won the NBA Championship in 2016 while also taking the Eastern Conference crown in 2007, 2015, 2016, 2017 and 2018. The team plays at, and also operates, the transformed Rocket Mortgage FieldHouse in downtown Cleveland, Ohio. The Cavaliers and Rocket Mortgage FieldHouse are part of Rock Entertainment Group. The Group also includes the Cleveland Monsters of the AHL, the Cleveland Charge of the NBA G League, Cavs Legion of the NBA 2K League, Legion Lair Lit by TCP home of Cavs Legion in Cleveland, and Cleveland Clinic Courts - the Cavaliers' training and development center in Independence, Ohio. The Cavaliers are regularly recognized for their extensive community support and engagement programs and contributions, workplace diversity and inclusion leadership, and an on-going economic impact that now registers in the billions of dollars locally. Dan Gilbert is Chairman of the Cleveland Cavaliers. Gilbert and his family of companies have now invested over $2.0 billion in Cleveland. Gilbert is also Founder and Chairman of Rocket Mortgage, the nation's largest mortgage lender, and Founder and Chairman of Rock Ventures LLC, the umbrella entity for his portfolio of business and real estate investments. Nic Barlage is the Cavaliers, Rocket Mortgage FieldHouse and Rock Entertainment Group CEO, and the Cavaliers team is led by President of Basketball Operations Koby Altman, General Manager Mike Gansey and Head Coach J.B. Bickerstaff. The Cavaliers and Rocket Mortgage FieldHouse provide fans the best experience in the NBA with its extensive and stunning array of amenities and technology and signature, electrifying game presentation.
About Bread Financial™
Bread Financial™ (NYSE: BFH) is a tech-forward financial services company providing simple, personalized payment, lending and saving solutions. The company creates opportunities for its customers and partners through digitally enabled choices that offer ease, empowerment, financial flexibility and exceptional customer experiences. Driven by a digital-first approach, data insights and white-label technology, Bread Financial delivers growth for its partners through a comprehensive product suite, including private label and co-brand credit cards, installment lending, and buy now, pay later (BNPL). Bread Financial also offers direct-to-consumer solutions that give customers more access, choice and freedom through its branded Bread CashbackTM American Express® Credit Card and Bread SavingsTM products.
Headquartered in Columbus, Ohio, Bread Financial is powered by its 7,500+ global associates and is committed to sustainable business practices. To learn more about Bread Financial, visit BreadFinancial.com or follow us on Facebook, LinkedIn, Twitter and Instagram.