Back to Press & News
Community
October 14, 2022
Columbus Blue Jackets announce Bread Financial™ as new Championship Partner and Official Financial Services Partner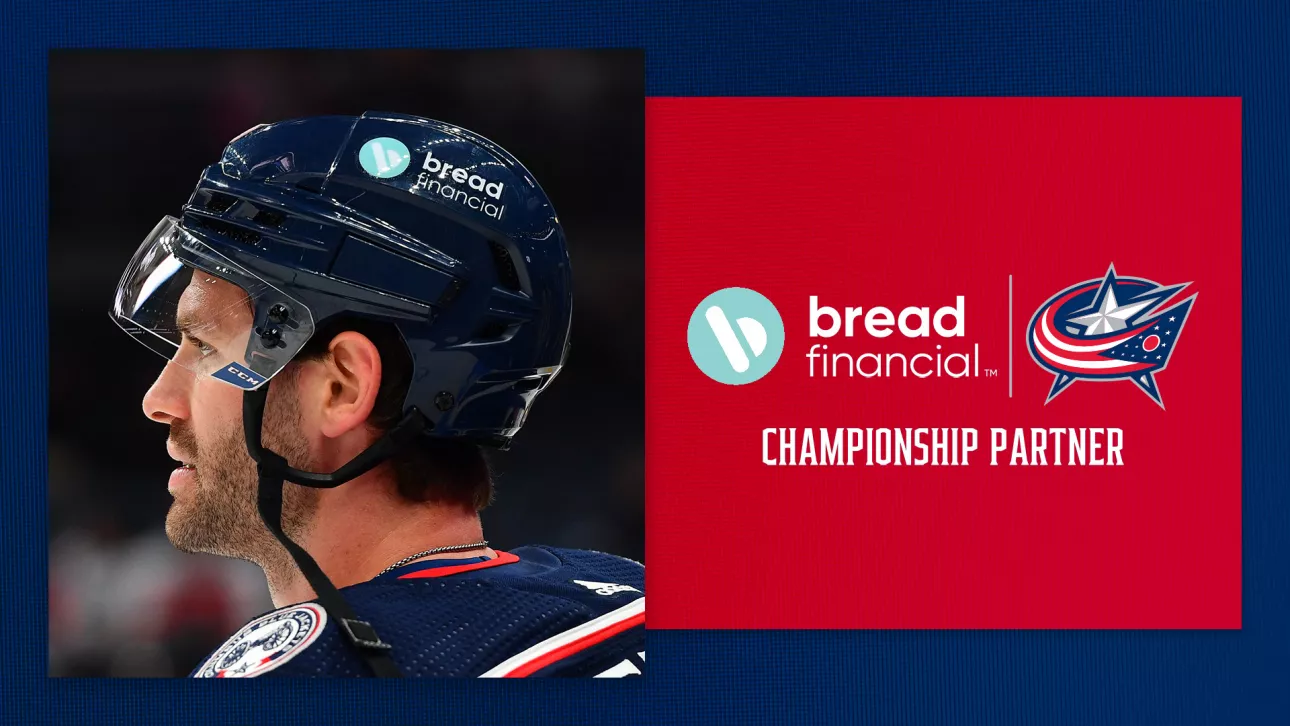 Bread Financial logo featured on club's home helmets as part of a multi-year agreement
COLUMBUS, OHIO – The Columbus Blue Jackets today announced a multi-year partnership with Bread Financial™ to be its new Championship Partner and first Official Financial Services Partner. Columbus-headquartered Bread Financial provides simple, personalized payment, lending and saving solutions, and is the Blue Jackets' home helmet partner for the 2022-23 National Hockey League season. Bread Financial's logo will be visible as 3.75" x 2.25" decals on the right and left sides of each home helmet beginning tonight as the Blue Jackets host the Tampa Bay Lightning in the regular season home opener.
In addition to Bread Financial's branding on the home helmet, the primary concession area of Nationwide Arena will be renamed "Bread Financial Boulevard," located between sections 101 and 106. The introduction of the newest Blue Jackets partnership is centered around their shared values and sense of community. Together, both organizations are committed to common goals of #WeUniteaCity and will coordinate and promote common initiatives throughout the season that benefit fans and the community alike.
The Blue Jackets and Bread Financial both call Columbus home, and we are thrilled to announce this relationship with a local sports franchise that not only has a winning tradition, but shares our core company values. Investing in our communities and paying it forward is a key tenet of Bread Financial, and we are incredibly proud to partner with CBJ on and off the ice to make a difference.
Ralph Andretta, President and CEO of Bread Financial
"We are excited to welcome Bread Financial to the Blue Jackets family as a Championship Partner," said Cameron Scholvin, Blue Jackets Chief Operating Officer. "Partnering with local companies in significant ways has always been important to our organization. Columbus is a dynamic market with thriving sports and business communities and our relationship with Bread Financial is a great example of two Columbus-based organizations coming together to help each other achieve their goals."

With more than 3,100 central Ohio associates, Bread Financial has been a fixture in the Columbus community for more than 30 years, offering a full suite of financial services products that create opportunities for its customers and partners through digitally enabled choices that bring ease, empowerment, and financial flexibility.
The Blue Jackets open the 2022-23 home season tonight (Oct. 14) with the Tampa Bay Lightning at 7 p.m.