It can be quite difficult for a consumer to decide which product to buy when faced with the massive selection of options online. With so many choices available, it's easy for consumers to become overwhelmed by data, images, details, and price. Given that so many consumers face this type of shopping experience, ecommerce businesses can help ease the decision-making process by utilizing a product description template that contains all the information consumers need to make a purchasing decision.
According to a recent study conducted by Statista, the global average shopping cart abandonment rate is 70%. When taking a closer look at why that rate is so high, it turns out that having a creative product description can make a substantial impact. An ecommerce study by the NNgroup found that 20% of all incomplete purchase transactions can be attributed to incomplete or unclear product information.
If consumers aren't able to find the answers to their questions, it can easily derail a potential sale. In the worst cases, a poor experience can cause them to leave your website altogether out of frustration and instead go to Google to find other businesses offering the same or comparable products.
To help reduce the amount of lost conversions on your ecommerce site, we've created the ultimate product description template that you can use to upgrade your current product listings, or use as a starting point for any new listings. We'll teach you how to write high-converting product descriptions, including the top 6 elements to consider, along with use case examples.
6 Essential Elements of a Great Product Description Template
1. The classic 5 Ws (and how)
The 5 W's and How are at the heart of any solid piece of journalism. Using this same foundation, ecommerce businesses can build product descriptions that communicate information effectively and efficiently, in a consumer-friendly manner.
Here are a few tips to consider:
Who is your product for?
Consider the persona profile of your target audience and factors such as demographics and psychographics. Knowing this information will enable you to describe your product in a way that shows value to consumers.
What is your product?
The details of your product and what sets it apart from competitors is information that consumers will be wanting. This includes product dimensions, attributes, features, and usage.
Where would your product be used?
Is your product meant to be used indoors, outdoors, etc? Indicate any specific limitations as well, such as not for use on the skin, not waterproof, etc.
When would your customers use your product?
Is your product meant for traveling, in certain weather, in any specific situations?
Why is your product beneficial to consumers, or better than competitors?
You can mention anything having to do with the quality of your product, its features, and even reference reviews. Also, consider how product images can complement your product copy.
How does the product work?
Explain how consumers can use the product, e.g., how to set the product up. If there are a variety of ways, provide some examples so it's easy for them to imagine.
2. Concise and scannable
With all the content around consumers vying for their time, attention spans have reduced significantly. In fact, the same study from the NNgroup found that almost 80% of consumers will scan any new page of content they come across rather than read everything thoroughly.
Creating a product description that's concise and scannable is your best bet in getting the attention of consumers and ultimately leading them to purchase. They need to be able to quickly go through your content and absorb the information that's relevant to them in order to make their buying decision.
Below is an example of a concise and scannable product description from Rec Tec Grills for a grate brush. A bulleted format is used with simple language. Product benefits and dimensions are easily read.
Image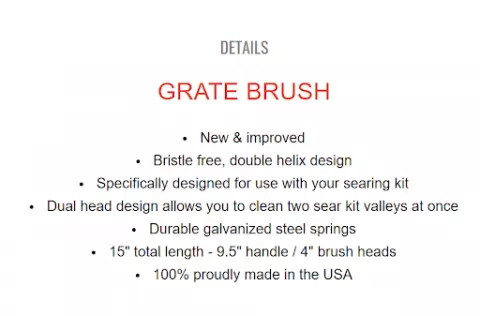 3. An emotional connection
When buying a product, it's not just the product itself that consumers are considering. There's often an emotion connected to the purchase, such as excitement over a new pair of jeans, security when purchasing a bike lock, or a sense of status over a high-end item. For example, jewelry brand Noémie often associates with a luxurious lifestyle, using descriptions such as "The epitome of everyday glamour". You can read our case study on how they've used Bread to increase their checkout volume here.
Place yourself in the shoes of your buyer to understand what emotional state they might be in when browsing your product page. Use your copy to position your product as the solution to their emotional needs.
4. Power words
There are certain types of words that have the ability to create a more impactful impression on a shopper versus the more modest way of describing a product. These are known as 'power words' and are often used by retailers to entice emotional reactions in consumers and lead to a purchase. The gaming industry, in particular, is prone to taking advantage of power words.
A great product description example with power words is Digital Storm. For their laptop products, they use words like "mobile powerhouse" and describe their laptops as being able to "blow the door off today's most demanding games with maximum detail, speed, and power wherever you go."
5. Create a sense of urgency
Creating a sense of urgency in shoppers can increase engagement, lead to a higher conversion rate, and can even boost customer loyalty. With the right execution, product description templates that promote urgency can influence shoppers to take immediate action on your website.
Examples of tactics ecommerce sites use to create a sense of urgency include displaying limited stock levels, providing a product discount for a limited time, or, in the case of BBQ Guys, offering a free gift with purchase.
Image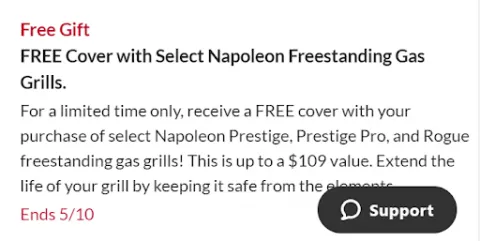 6. Length
Research shows that only 16% of users read text word for word. If your product descriptions are too long, there's no guarantee that readers will make it past the first few sentences. In addition, for any shoppers using a mobile device, long product descriptions take up a lot of real estate on mobile screens and require excessive scrolling.
For many products, buyers already have a good idea of what they want and don't need great detail about product specifications. Best practice is to lead with the key features and benefits of your product, followed by any specifications. This way, consumers in earlier stages of their purchasing journey can learn more about your product, while those who are ready to buy can easily skim through.
Below is an example of a product description from the luggage brand, Biaggi. The first section explains the benefits of the product and is followed by specific product details, like product dimensions.
Image
Never stop testing your product description template
There are so many variations that you can use for your product description template that it can be hard to know where to start. The great thing about having a website is that it's easy to make changes and experiment.
If you're not sure what kind of tactic to use for creating a sense of urgency, or you don't know what's the best language to use in your product description, you can A/B test by comparing two versions of the same webpage to determine which one performs better.
Ultimately, as long as you've identified your success metrics, such as an increase in conversion rate or decrease in cart abandonment, you'll be able to gauge whether or not your product pages are performing well, and optimize them as needed.