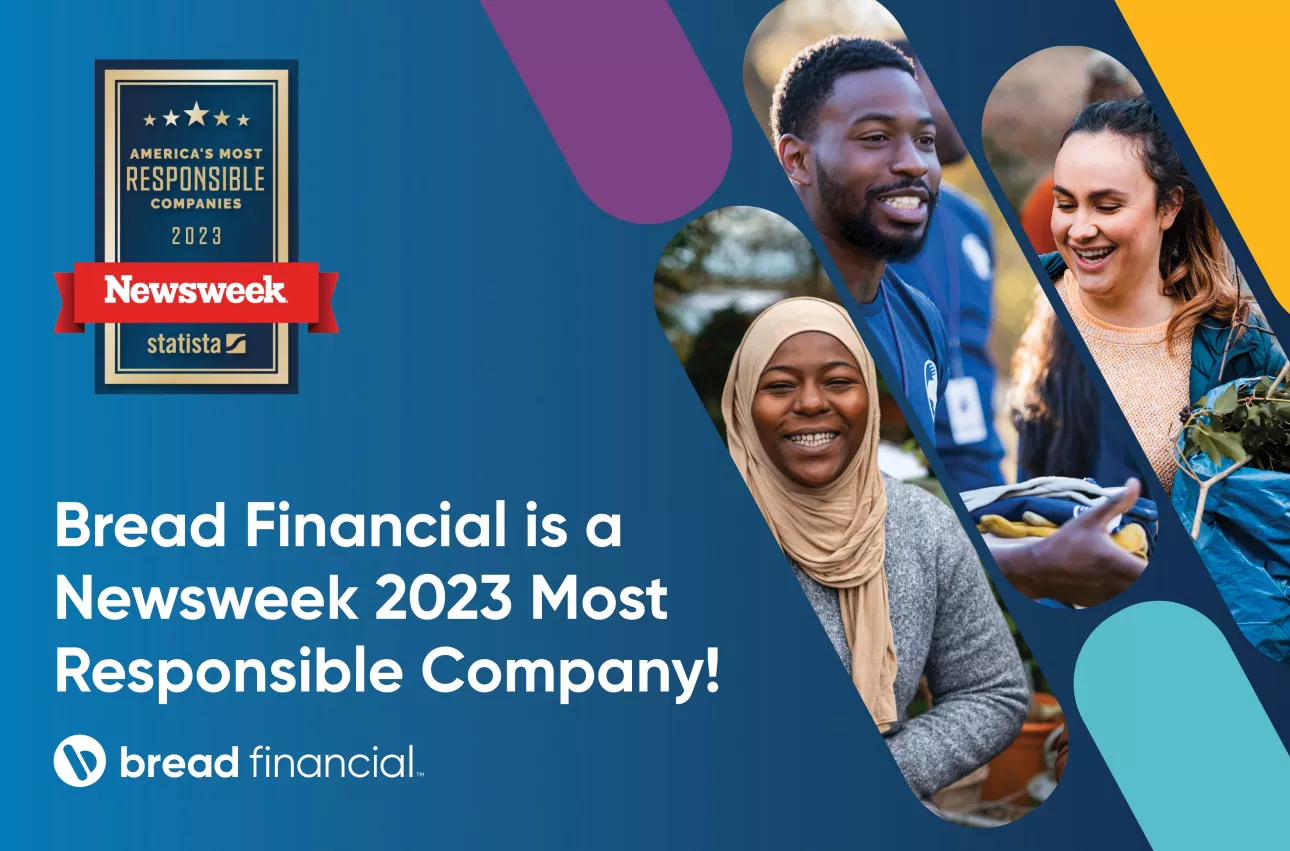 Driven by purpose, and with a legacy of operating ethically and sustainably, Bread Financial has been named to Newsweek's America's Most Responsible Companies 2023 list. 500 of the largest U.S. public companies made the list, with Bread Financial debuting at #369 overall and #28 in the financial category. More than 2,000 U.S. public companies were assessed based on companies' prioritization of environmental, social and governance (ESG) practices and their commitment to corporate responsibility.
"This recognition represents our principled approach to growing both profitably and responsibly, and in operating in the long-term interests of our valued stakeholders," Ralph Andretta, president and CEO of Bread Financial, said. "We are redefining what a financial services provider can and should be in an increasingly complex society with evolving stakeholder expectations. It is an honor to receive this third-party validation of our sound operating practices, which reflect our 6,000+ global associates' commitment to living our values and advancing our purpose-driven brand."
In 2021, a fully revised ESG strategy was developed by management and approved by Bread Financial's Board of Directors, with notable enhancements including a more comprehensive framework for ESG objectives under the following pillars: Governance, Customers, Associates, Environment and Communities.
"At Bread Financial operating responsibly is a business imperative embedded in our culture and operations, with clear accountability from senior leadership," Dana Beckman, head of sustainability at Bread Financial, said. "Advancing our ESG strategy, policies, protocols and practices has been a deliberate and integrated part of our overall business transformation, and I am proud of this prestigious recognition."
In partnership with Statista, Newsweek's list is based on a holistic view of corporate responsibility that considers all three pillars of ESG. To determine the ranking, the top 2,000 U.S. public companies by revenue, as well as bank and insurance companies with 50+ billion in assets, were evaluated using both quantitative data, based on more than 30 KPIs, and a Corporate Social Responsibility (CSR) reputation survey of U.S. residents. In total, 500 companies were identified as one of "America's Most Responsible Companies."
For more information on Bread Financial's ESG strategy, visit our sustainability page or download the 2021 ESG Report.