Back to Insights & Innovation
Leadership
March 23, 2022
Our new brand: Bread Financial represents a more focused, unified company
By Ralph Andretta
Today is a historic day at our company, as Alliance Data officially rebrands as Bread Financial™. Our new brand reflects the extensive transformational work our leadership team and associates have done over the past three years to streamline and simplify our business model so we can focus on what we do best – providing tech-forward payment, lending and saving solutions.
Built upon the principles of choice, ease and trust, Bread Financial provides simple, personalized solutions that empower consumers to buy, borrow and save their way. Through a broad suite of payment and saving products Bread Financial delivers financial opportunity, access and control for our partners and consumers alike.
So, why are we rebranding now? After many years of operating three distinct lines of business, we have been working toward a simplified business model that allows us to focus on assets with the greatest growth potential; specifically, our payment, lending and saving business. Our new brand symbolizes the transformational change that positions us as a focused, formidable financial services company committed to delivering sustainable value and growth to our stakeholders in an ever-evolving marketplace.
Events sometimes accelerate the societal change already underway. For instance, the onset of the COVID pandemic bolstered digital adoption behaviors, and it became consumers' channel of choice almost overnight. It also validated our decisions to modernize our tech stack and invest further in digital technologies and payment solutions. Consumer preferences continue to evolve rapidly, and we are leading with a tech-forward approach so that we can meet customers wherever they are today and in the future as they shop, pay and save.
While our company name and brand have changed, the foundational elements that drove our decades-long success as Alliance Data will remain intact. Our success starts with our associates – the heart of our company – and our customer-focused, inclusive, results-driven, award-winning culture. We will continue to build on our 30-year legacy of partner loyalty and service delivery excellence. We will also continue making progress to further integrate sustainability principles into Bread Financial's business strategy in ways that make positive environmental, social and governance impacts, and advance our long-term financial performance and reputational goals.
This is an incredibly exciting time to be part of Bread Financial. I am so proud of our associates' collective work to get us where we are today, and I am equally enthusiastic about Bread Financial's bright future.
"Bread Financial combines the heart and hustle of a fintech with the discipline and stability of a well-established bank."
Ralph Andretta, President and CEO
Author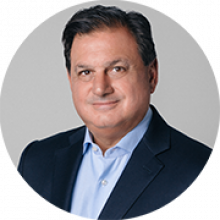 Ralph Andretta
President & Chief Executive Officer
President and Chief Executive Officer Ralph Andretta is responsible for the Company's growth, development, and financial performance. With more than 25 years of experience at leading US financial services companies, Ralph has a strong record of growing credit card, loyalty, and affinity products and relationships, driving operational efficiencies and superior financial performance on a consistent basis.