We are facing unprecedented changes in the midst of the COVID-19 pandemic. To get a better sense of how this pandemic is affecting everyday consumers, we commissioned a survey of over 500 American shoppers from across the US in mid-to-late March to see how their attitudes and purchasing behaviors have shifted.
68% of those we polled believe they will have to substantially change what and how they buy due to spending more time at home. These changes will have a far-reaching impact on every industry, but as many challenges they will bring, they will also bring opportunities for those who adapt.
Consumer Outlook: Confidence and Uncertainty
Confidence
77% of consumers expect to spend the same or more in 2020 as they did in 2019.
49% are confident in their financial situation.
Uncertainty
54% are worried about the stability of their job in the next 3 months.
52% expect to decrease spending by more than half in the next 6 months
Overall consumer confidence remains strong, and while many are confident in their own financial situation, they are uncertain about things to come. 54% are worried about job stability over the next 3 months, and 59% are concerned about their industry as a whole. While the majority expect to spend more this year as a whole, over the next six months 52% anticipate decreasing their spending by more than half. 77% say that, at this moment, conserving cash is a top priority.
More People Are Shopping Online
With these changes, more are naturally turning to ecommerce brands to replace products they used to buy in-store. Almost half of the shoppers surveyed plan to purchase groceries online, and more than 44% plan on purchasing cleaning items online. Brands in these categories need to ensure that their ecommerce experience is frictionless and that their supply chains are prepared for a spike in demand. However, there are still more than a quarter of shoppers that don't intend to shift towards buying more online.
 
Image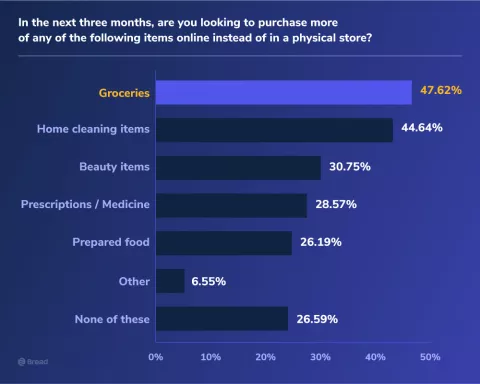 Purchases Are Being Pushed Back
Consumers expect their jobs to recover first, estimating only 4.4 months of negative impact. This may be because they anticipate that their organizations will get used to working remotely and adapt to immediate changes. They expect the quarantine to affect them personally for a little longer than that, at 5.1 months, but even after their lives go back to normal, many foresee the economic impacts lasting the longest of all. Consumers expect coronavirus to have a negative effect on the economy for 8.5 months, or almost until 2021.
 
Image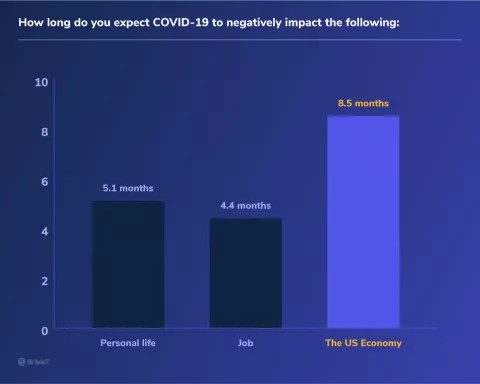 Price seems to be a major factor in delaying whether or not a purchase is being made by shoppers. Higher-end and more luxurious purchases like cars, jewelry, and vacations are being delayed by half a year or more (in the case of hospitality this is of course driven by travel bans as well). Purchases that are normally smaller like beauty products, health and hygiene items, and apparel aren't being delayed as much; on average they are being delayed by around 3 months. However, it seems that almost every vertical will face a dip in demand overall as consumers wait to see what happens.
 
Image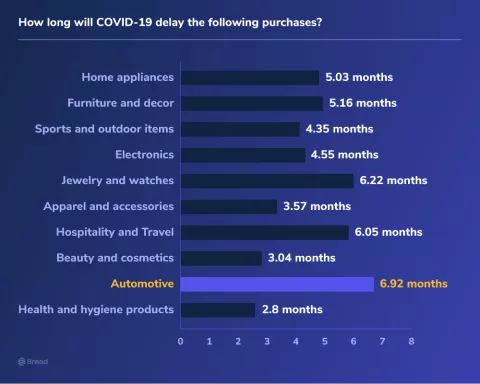 Consumers Are Putting Off Big Ticket Purchases
67% of consumers say that economic impact from the coronavirus will or will probably limit their ability to pay for high-ticket items. Shoppers are considering these types of items, and deciding not to purchase. Making the path to purchase as short and as low-friction as possible is crucial for companies of all kinds right now, and this is especially true for those with higher-cost offerings.
 
Image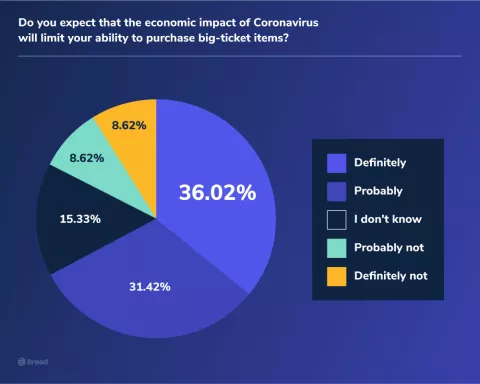 In addition, we've compared data from a survey we conducted the month before the coronavirus outbreak to the one taken in March and found that priorities are shifting in interesting ways. Shoppers' budgets have decreased slightly for some purchases, but instead of sinking across the board, they've actually gone up for some essentials.
20% more customers have increased their budget to over $1000 for home electronics. Almost double the amount of customers have increased their budget for patio and garden purchases, from 18% to 33%. Bedding had the greatest increase, from 22% to 46% of shoppers with a budget of over $1000. This may be surprising at first glance, but this shift likely reflects that shoppers are anticipating spending more time at home. A more comfortable living space, ample entertainment, spending more time grilling in the backyard or working in the garden are on many consumers' minds at the moment.
 
Image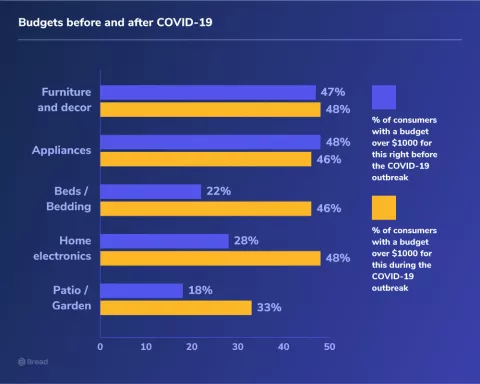 Consumers are Looking to Pay Over Time
55% of consumers say they need financing now to buy the items they could have paid for upfront before the outbreak, and 42% of consumers say they need the option to pay in installments due to the economic impact of the coronavirus. Shoppers want to hold on to their income now more than ever, and a pay-over-time option can help them keep cash in their pockets when they don't know what to expect. More than 50% of shoppers are looking to pay in installments for purchases of all categories surveyed except for patio and garden. Offering more payment flexibility can help customers afford what they need today while spreading payments out over time.
 
Image
Customers need options right now, and the more you can give them, the easier it will be for them to make a purchase. If you're concerned about your audience's ability and willingness to buy from you, offering point of sale financing is just one thing you can do to simplify the path to purchase in a time of uncertainty.