Back to Press & News
Community
September 21, 2023
My Possibilities opens Employment Innovations School, powered by Bread Financial™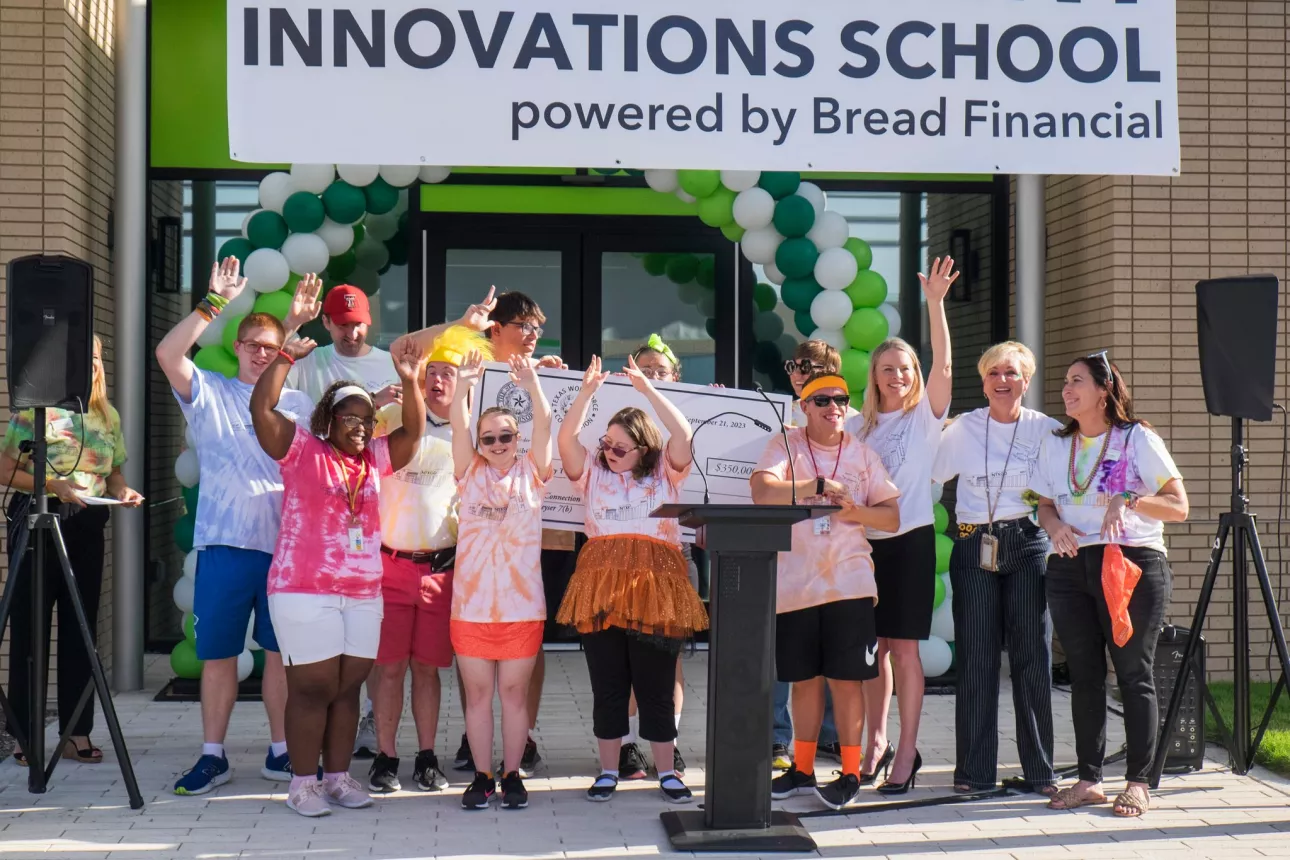 Sept. 21, 2023 – Plano, TX – My Possibilities (MP), a pioneering organization dedicated to empowering adults with intellectual or developmental disabilities (IDD), proudly announces the opening of the Employment Innovations School (EIS), powered by Bread Financial™. The EIS is the second building on the MP campus for Higher Learning.

The opening of the EIS signifies a game-changing leap for MP in harnessing the untapped potential of North Texas' dedicated IDD workforce. This initiative carves pathways to empowerment, bridging the gap between talent and opportunity. With a dynamic range of vocational training program tracks, including general vocation, hospitality, facilities, technology, administration, retail, and culinary, the school will amplify inclusivity across diverse industries with real-world training from day one. By empowering students with the tools they need to gain meaningful employment, MP helps reduce barriers and promotes inclusion in the workforce, fostering a more diverse and inclusive society. The new EIS program will serve an additional 300 HIPsters (Hugely Important People), with the inaugural class starting on Oct. 2.

My Possibilities' founder and HIPster parent, Charmaine Solomon, shared inspiring remarks beginning the ribbon-cutting ceremony, "Today's culmination and opening takes a village. Community supporters, parents, volunteers, staff, corporate partners, all played a significant role in building this village. The impact of this Employment Innovation School is going to be tremendous; in our community, to provide a workforce, for our adults to have another level of advancement, and a state-of-the-art building because our people deserve the best! Having all our local leaders and businesses here to celebrate with us is amazing—we have built all these partnerships, and that's a part of the village."

Executive Director of My Possibilities, Michael Thomas, presented astonishing statistics about opportunities for the IDD population. "There have been improvements over the last decade, but the reality is, the vast majority of adults with IDD do not have the opportunity to continue their education outside of high school. The Employment Innovations School provides an opportunity for our HIPsters to be a part of the community and the workforce. This population is an untapped resource across the U.S.--four percent of the country has an Intellectual or Developmental Disability and only five percent of them are working. This campus is not just great for North Texas, this needs to become the new expectation for what this population deserves."

For a collective 20 years, My Possibilities (including former LaunchAbility) and Bread Financial (formerly Alliance Data) have epitomized the power of collaboration to redefine inclusion in the workplace; underscoring the significance of creating a resounding impact on individuals and communities alike. With Bread Financial's invaluable support, MP is spearheading a movement that not only sources talents but also carves trajectories, celebrating the capabilities and resilience of individuals with IDD.

"For two decades, Bread Financial has been proud to support My Possibilities' mission to provide opportunities for hundreds of HIPsters to gain greater independence through continued education and employment," said Dana Beckman, head of sustainability at Bread Financial. "It's institutions like the Employment Innovations School that will continue to be a catalyst for meaningful change and inclusion, both in bettering the workplace, and in the lives of these uniquely talented individuals. We are both thrilled and confident in the positive impact the EIS will make in our community and in establishing a model that can affect change in many other communities. Bread Financial and My Possibilities have transformed a lot over the long-tenured partnership that we have had—but the one thing that has always remained consistent is the steadfast commitment to provide this on-going opportunity for independence for all these HIPsters, through education and enrichment. This started as a small vision of three passionate mothers, and now, to see the state-of-the-art institution that this vision has become is a tremendous milestone."
For two decades, Bread Financial has been proud to support My Possibilities' mission to provide opportunities for hundreds of HIPsters to gain greater independence through continued education and employment. It's institutions like the Employment Innovations School that will continue to be a catalyst for meaningful change and inclusion, both in bettering the workplace, and in the lives of these uniquely talented individuals."
Dana Beckman - Head of Sustainability, Bread Financial
Ringing endorsements 
Through the Texas Talent Connection grant, MP is also set to receive $350,000 for the EIS, in support of the onboarding and training of new staff and is eligible for renewal up to three years. Courtney Arbour, Director of Workforce at the Texas Workforce Commission, offered remarks from a workforce perspective, "I cannot say 'thank you' enough for what you are doing, not only for the students here, but for the economy of Texas. Every Texan that wants to work needs the skills and resources to do so." In addition to the grant, during the ribbon-cutting ceremony, Michelle Bishop, District Director, and Susan Fischer, Constituent Services Lead, presented a Congressional Certificate on behalf Congressman Keith Self, marking the momentous occasion as a well-deserved endorsement as one of prestige and respect. "Your dedication to supporting and empowering adults with IDD is both admirable and inspiring. My Possibilities will undoubtedly make a positive impact on the lives of those it serves; fostering independence and a sense of belonging," said City of Plano Mayor, John B. Muns. "This [Employment Innovations School] is going to create even greater opportunities for these HIPsters, and we want to be a part of that support. The City of Plano is very supportive of everything in regard to expansion and how we can help grow My Possibilities—not only here in Plano, but wherever you want it to go."
 
Chief Program Officer, Shelley Crowder, shared a heartfelt statement of support, "I couldn't be prouder of the work the EIS team has invested to make this program the model for vocational programing for adults with disabilities. The impact of this program spans beyond the disability space and directly impacts the workforce and community at large. I am very thankful to our community and corporate partners that have diligently worked with us to bring this dream to life. I am excited to see what the future holds for our HIPsters as they journey through this incredible program. To all corporations interested in partnering with My Possibilities, we welcome the opportunity to expand inclusivity and possibilities for people of all abilities within your organization."
About My Possibilities
My Possibilities is a North Texas for-cause 501(c)(3) organization that serves as a pioneering leader in vocational education for adults with intellectual and/or developmental disabilities throughout North Texas. To learn more, visit mypossibilities.org. 
About Bread Financial™
Bread Financial™ (NYSE: BFH) is a tech-forward financial services company providing simple, personalized payment, lending and saving solutions. The company creates opportunities for its customers and partners through digitally enabled choices that offer ease, empowerment, financial flexibility and exceptional customer experiences. Driven by a digital-first approach, data insights and white-label technology, Bread Financial delivers growth for its partners through a comprehensive product suite, including private label and co-brand credit cards, installment lending, and buy now, pay later (BNPL). Bread Financial also offers direct-to-consumer solutions that give customers more access, choice and freedom through its branded Bread Cashback™ American Express® Credit Card and Bread Savings™ products.
Headquartered in Columbus, Ohio, Bread Financial is powered by its 7,500+ global associates and is committed to sustainable business practices. To learn more about Bread Financial, visit BreadFinancial.com or follow us on Facebook, LinkedIn, Twitter and Instagram.