Back to Press & News
Community
October 17, 2023
Bread Financial™ awards $250,000 grant to The Fedcap Group to support financial empowerment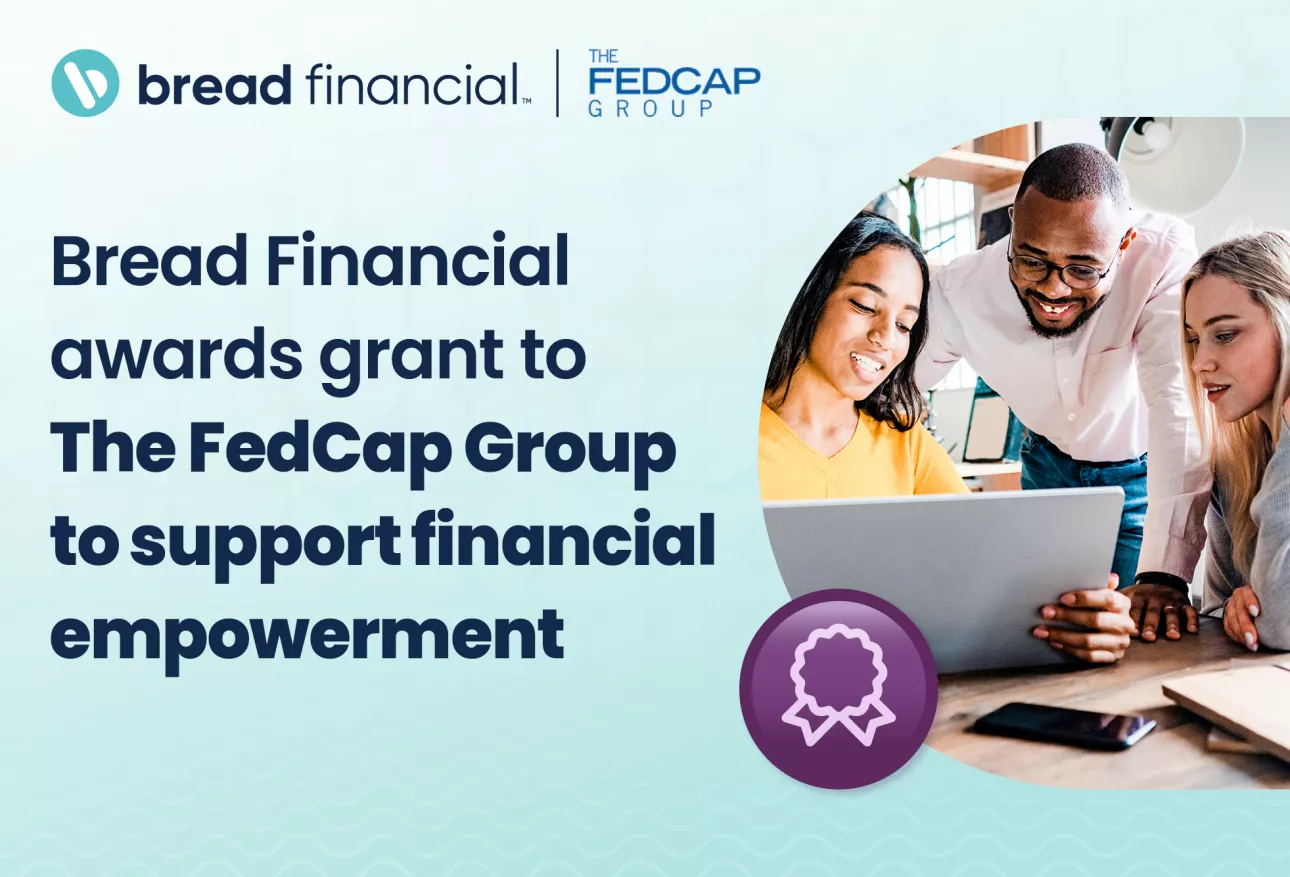 Grant will also support job fairs to connect individuals trained at Civic Hall to jobs in the tech sector
NEW YORK (October 16, 2023) – The Fedcap Group today announced it has received $250,000 from Bread Financial™ to make the Single Stop benefits screening platform available when Civic Hall at Union Square opens this fall. The grant will also support the launch of a financial literacy program at Civic Hall as well as job fairs to connect individuals to jobs in the tech sector.
The Single Stop platform provides easy, seamless access for individuals to check their eligibility and begin the application process for dozens of essential government benefit programs. The generous financial support by Bread Financial will ensure Single Stop is accessible to every individual who walks into Civic Hall, including those in educational partner programs, community meetings, and other public events, including job fairs.
Civic Hall at Union Square will provide a comprehensive offering of digital skills and tech training programs to meet the New York City tech sector's growing workforce needs and serve as a hub for tech innovation and entrepreneurs. In collaboration with training providers that include LaGuardia Community College and the Data School New York, the facility will primarily train individuals from underserved communities to place them in well-paying, sustainable tech jobs, to provide financial stability and well-being.
"We are grateful for the support from Bread Financial to help us achieve our mission to have Civic Hall serve as New York City's leading tech training, innovation, and entrepreneurial hub," stated Christine McMahon, president and CEO of The Fedcap Group. "We believe supporting our students and the Union Square community extends beyond the classroom and want to ensure that anyone who walks through our doors gets the support they need to grow and live their dreams. Having Single Stop as part of our suite of wraparound services has always been a core part of our plan for Civic Hall, and we are looking forward to launching this fall."
"Bread Financial is proud to partner with The Fedcap Group to create pathways to economic equity for underserved populations of New Yorkers," said Dana Beckman, vice president and chief sustainability officer at Bread Financial. "This groundbreaking new facility will provide community members with valuable support that further ensures the likelihood of completing job training programs and securing employment. From job fairs to childcare, these programs will help individuals gain access to higher wages, and build a more competitive, inclusive workforce. We look forward to seeing the positive impact these programs make in the community."
Bread Financial is proud to partner with The Fedcap Group to create pathways to economic equity for underserved populations of New Yorkers. This groundbreaking new facility will provide community members with valuable support that further ensures the likelihood of completing job training programs and securing employment."
Dana Beckman - Vice President and Chief Sustainability Officer, Bread Financial
"Civic Hall will be the driver of NYC tech ecosystem serving as a hub of innovation, entrepreneurism, and high-quality tech training especially for communities too often left behind," said Seema Shah, Civic Hall Executive Director. "By pairing our training with Single Stop's comprehensive benefits screener and job fairs we will help our students persist through to completing their training—the first step in building long-term financial stability. We are honored to receive this grant from Bread Financial to help make that happen."
"Single Stop is honored to be part of this transformative initiative at Civic Hall. We believe that access to essential government benefits and community supports can be a lifeline for individuals striving for economic stability," said Martin Hanna, President & CEO of Single Stop. "Thanks to the generous support from Bread Financial, we are excited to make Single Stop services readily available to everyone who walks through Civic Hall's doors. Together, we're not only building a competitive tech workforce but also ensuring that no one is left behind on their journey to financial well-being."
In 2022, Single Stop connected 87,500 individuals to $374 million in eligible benefits. Below are the grants on the Single Stop platform:
Federal
1. Pell Grant
2. Lifetime Learning Credit
3. Free Tax Preparation
4. Affordable Connectivity Program (Broadband)
5. Child Tax Credit
6. Earned Income Tax Credit
7. School Lunch Program
State/City
1. Supplemental Nutrition Assistance Program
2. Earned Income Tax Credit
3. Low-Income Home Energy Assistance Program (LIHEAP)
4. Women, Infants & Children (WIC)
5. Free Essential Plan II
6. Low-Cost Essential Plan I
7. Emergency Medicaid
8. Medicaid
9. Free Child Health Plus
10. Subsidized Qualified Health Plan
11. NYC Earned Income Tax Credit
12. Low-Cost Child Health Plus
13. Medicaid for Aged, Blind & Disabled
About The Fedcap Group
For 87 years, The Fedcap Group has developed scalable, innovative, and potentially disruptive solutions to some of society's most pressing needs. Serving 340,000 people this past fiscal year, The Fedcap Group provides educational services to every age group, vocational training and job attainment in high-growth industries, as well as support services such as behavioral health services—all targeted to helping people achieve long-term self-sufficiency. The Fedcap Group also invests its time and resources in broader system change—working in partnership with federal, state, and local government to improve the way services are designed, funded, and delivered.
About Civic Hall
Civic Hall is a member of The Fedcap Group. Civic Hall's mission is to support and enable best-in-class programs that help close the digital skills divide and plan for the needs of tomorrow's workforce. Located in the heart of the NYC tech community at Union Square, Civic Hall will be a new, 85,000-square-foot learning and training center at the new state-of-the-art Zero Irving building. Civic Hall will facilitate groundbreaking partnerships among high-impact tenants and workforce training partners to work collectively to meet the needs of all New Yorkers, especially those from communities too often left behind.
About Bread Financial™
Bread Financial™ (NYSE: BFH) is a tech-forward financial services company providing simple, personalized payment, lending and saving solutions. The company creates opportunities for its customers and partners through digitally enabled choices that offer ease, empowerment, financial flexibility and exceptional customer experiences. Driven by a digital-first approach, data insights and white-label technology, Bread Financial delivers growth for its partners through a comprehensive suite of payment solutions that includes private label and co-brand credit cards and Bread Pay™ buy now, pay later products. Bread Financial also offers direct-to-consumer products that give customers more access, choice and freedom through its branded Bread Cashback™ American Express® Credit Card and Bread Savings™ products.
Headquartered in Columbus, Ohio, Bread Financial is powered by its 7,500+ global associates and is committed to sustainable business practices. To learn more about Bread Financial, visit breadfinancial.com or follow us on Facebook, LinkedIn, Twitter and Instagram.