Back to Press & News
Community
August 10, 2022
Bread Financial Supports American Red Cross Humanitarian Mission Through Annual Disaster Giving Program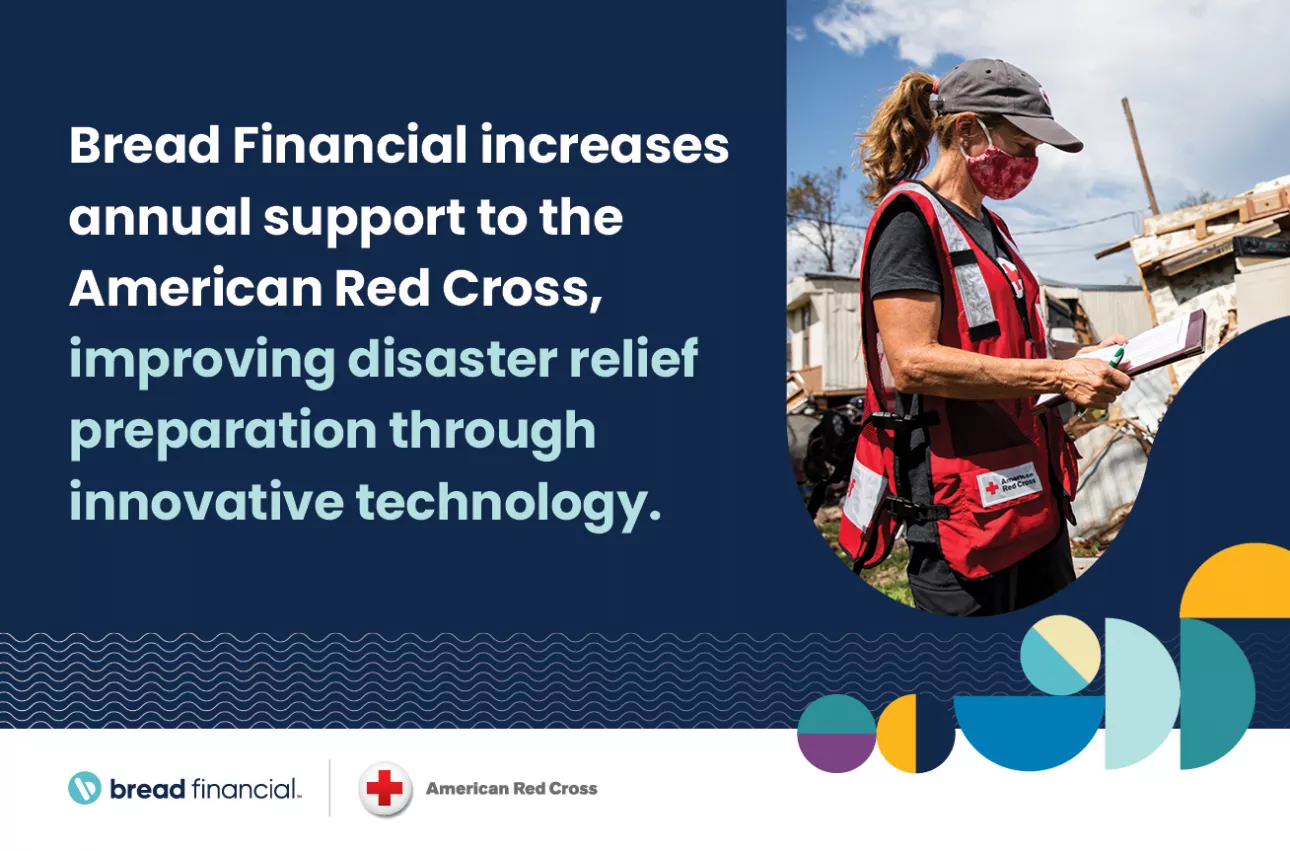 Pledge of ongoing support enables Red Cross to prepare for and respond to disasters of all sizes
COLUMBUS, August 10, 2022 — The Central & Southern Ohio Region of the American Red Cross recognizes Bread Financial, headquartered in Columbus, Ohio, for increasing its annual support to Red Cross Disaster Relief through the Annual Disaster Giving Program (ADGP) with a gift of $500,000. By making a proactive donation, Bread Financial helps ensure the Red Cross is prepared to meet the urgent needs of people affected by disasters big and small across the United States.
ADGP members, along with their employees and customers, pledge financial and in-kind donations in advance of disasters, powering the Red Cross with strong infrastructure, trained volunteers, innovative technology and critical resources necessary to provide relief and support to those in crisis. These donations enable the Red Cross to respond to disasters at a moment's notice — offering a safe place to sleep, a hot meal, emotional support and resources to aid in recovery — while also helping prepare people and communities for disasters yet to come.
The Red Cross responds to more than 60,000 disasters across the country every year, providing comfort and hope to people during what can be the worst days of their lives. Large disasters like hurricanes, floods and wildfires are increasing in frequency and intensity, resulting in more displaced, vulnerable people who need support. In what has become a chronic disaster environment, donations from ADGP members are more important than ever as they fuel Red Cross readiness and strengthen response efforts.
"ADGP members like Bread Financial are truly extraordinary because they understand the importance of having vital resources in place before a disaster strikes," said Anne McKeough, chief development officer at the American Red Cross. "We are extremely grateful for these forward-thinking donors who ensure we stand ready to help people in their darkest hours, whenever and wherever we're needed most."
Bread Financial's donation also supports RC View, a state-of-the-art disaster event management system that provides all Red Cross teams with a shared disaster response capability. It enables the Red Cross to share a common operating picture with partners and draw on near real-time data to better manage disaster operations and help survivors more efficiently than ever. RC View also helps the Red Cross create readiness plans through tracking historical response data to better understand when and where communities may need additional support. Having replaced time-consuming manual and paper-intensive processes, RC View is helping the Red Cross to speed up its response time, make better resource decisions and ensure services get to people most in need
The environment is under increasing strain, and extreme weather events are occurring more frequently and with greater intensity. Bread Financial recognizes the powerful role that technology, data and analytics play in helping the Red Cross prepare and respond to urgent and unprecedented disasters, particularly for those most vulnerable. This gift supports our shared interest to provide immediate care and comfort to those in need, as well as long-term solutions that ensure more resilient communities.
Ralph Andretta, President and CEO of Bread Financial
Donations from ADGP members like Bread Financial also support basic needs for families affected by home fires — which comprise the bulk of Red Cross response efforts — and help ensure the Red Cross can continue educating people nationwide about disaster preparedness so they can cope with crises in their communities when the unthinkable happens.
"We're grateful to Bread Financial for their incredibly generous gift to help fund these digital and technological advancements within the Red Cross," said Stephanie Byrd, regional executive for Central & Southern Ohio. "Equally, we applaud Bread Financial for being such a wonderful community partner, working with us to support the people and families here in Columbus, central Ohio and throughout the country."
About Bread Financial
Bread FinancialTM (NYSE: BFH) is a tech-forward financial services company providing simple, personalized payment, lending and saving solutions. The company creates opportunities for its customers and partners through digitally enabled choices that offer ease, empowerment, financial flexibility and exceptional customer experiences. Driven by a digital-first approach, data insights and white-label technology, Bread Financial delivers growth for its partners through a comprehensive product suite, including private label and co-brand credit cards, installment lending, and buy now, pay later (BNPL). Bread Financial also offers direct-to-consumer solutions that give customers more access, choice and freedom through its branded Bread CashbackTM American Express® Credit Card and Bread SavingsTM products.
Bread Financial is an S&P MidCap 400 company headquartered in Columbus, Ohio, and committed to sustainable business practices powered by its 6,000+ global associates. To learn more about Bread Financial, visit BreadFinancial.com or follow us on Facebook, LinkedIn, Twitter and Instagram.
About the American Red Cross
The American Red Cross shelters, feeds and provides comfort to victims of disasters; supplies about 40% of the nation's blood; teaches skills that save lives; distributes international humanitarian aid; and supports veterans, military members and their families. The Red Cross is a nonprofit organization that depends on volunteers and the generosity of the American public to deliver its mission. For more information, please visit redcross.org or cruzrojaamericana.org, or visit us on Twitter at @RedCross.