Back to Press & News
Partnerships
November 14, 2023
Bread Financial™ announces $1.8 million investment in new ROX initiative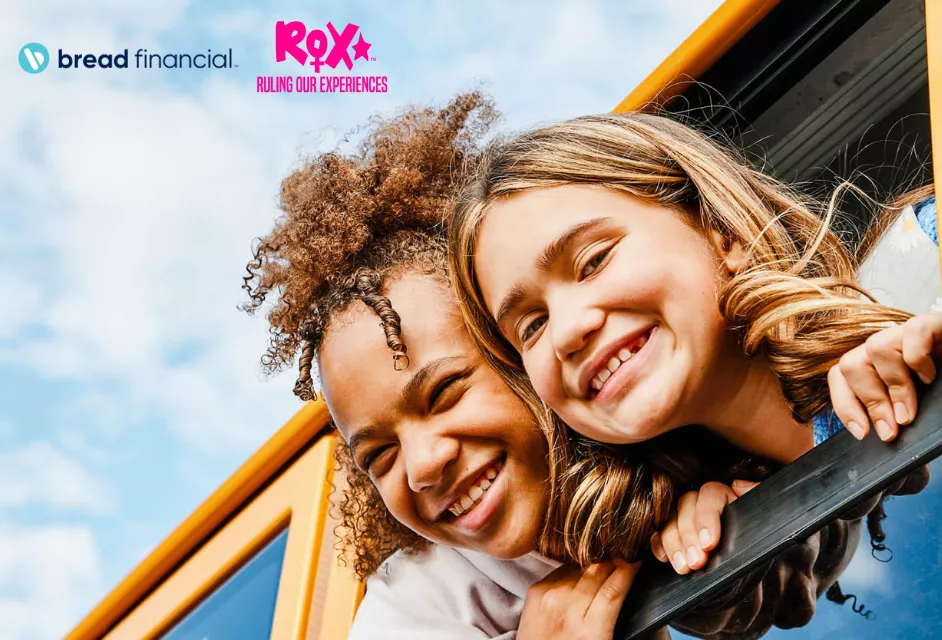 COLUMBUS, Ohio – November 14, 2023 – Ruling Our eXperiences (ROX), the national leader in programming, research and education focused on girls, is proud to announce a transformational $1.8 million investment from Bread Financial™. The funding will propel the national expansion of the school based ROX Program for Girls by providing access for girls in all 50 states.
The program is a 20-week, evidence-based curriculum delivered in schools by trained and licensed education, counseling, and social work professionals. Available for girls in grades 5-12, the program teaches girls the skills necessary to address the challenges they face as they navigate the complicated adolescent years. Currently, ROX programs operate in 500+ schools across 30 states.

The 2023 Girls' Index report, released in October and also funded by Bread Financial, surveyed more than 17,000 girls in grades 5-12 across the U.S. and found that girls' confidence and self-esteem has declined steeply, while stress, sadness and social media use all increased sharply since results from the 2017 inaugural Girls' Index report were released.
"The data illuminated the intensity of the confidence, relationship and interpersonal challenges facing girls as young as 10 and is showing us how critically urgent it is that we reach as many girls as possible, as quickly as possible. We are grateful to Bread Financial for its long-time support in helping us carry out our mission and expand across the nation – it is clear girls cannot afford for us to wait," said ROX Founder and CEO, Dr. Lisa Hinkelman, PhD.
The program focuses on helping girls build safe and supportive relationships, navigate social media, set healthy boundaries, stand up for themselves, manage stress and pressure, and cultivate their academic, post-secondary and leadership aspirations. With more than 1,000 professionally trained facilitators delivering this curriculum in public, private, charter and parochial schools in urban, rural and suburban communities across the country, ROX is creating generations of confident girls who control their own relationships, experiences, decisions and futures.
"Bread Financial is committed to changing the trajectory of girls' experiences. The data in the 2023 Girls' Index report illustrates the urgency of expanding the reach of this program to girls in all 50 states, and we are proud to continue our eight-year partnership with ROX to make that happen," said Val Greer, executive vice president and chief commercial officer at Bread Financial. "Investing in the betterment of girls ensures they are appropriately prepared to be the next generation of successful women leaders."
Investing in the betterment of girls ensures they are appropriately prepared to be the next generation of successful women leaders."
Val Greer - Executive Vice President and Chief Commercial Officer, Bread Financial
The ROX curriculum has reached more than 40,000 girls since 2006 and is aligned with key school counseling and education standards. After participating in the program, 93% of participants say they learned healthy ways to manage conflict, and 82% report increased confidence in handling difficult life situations. Among school administrators and staff, 85% say the program improved their school climate and three out of four say it reduced conflict and bullying among girls.
About Ruling Our eXperiences, Inc. (ROX)
Ruling Our eXperiences, Inc. (ROX) is a 501(c)(3) non-profit organization headquartered in Columbus, Ohio and is the national authority on research, education and programming centered on girls. ROX puts data into action to create generations of confident girls who control their own relationships, experiences, decisions, and futures. ROX delivers school-based programs in 500+ schools across 30 states and operates the ROX Institute for Research and Training.
About Bread Financial™
Bread Financial™ (NYSE: BFH) is a tech-forward financial services company providing simple, personalized payment, lending and saving solutions. The company creates opportunities for its customers and partners through digitally enabled choices that offer ease, empowerment, financial flexibility and exceptional customer experiences. Driven by a digital-first approach, data insights and white-label technology, Bread Financial delivers growth for its partners through a comprehensive suite of payment solutions that includes private label and co-brand credit cards and Bread Pay™ buy now, pay later products. Bread Financial also offers direct-to-consumer products that give customers more access, choice and freedom through its branded Bread Cashback™ American Express® Credit Card and Bread Savings™ products.
Headquartered in Columbus, Ohio, Bread Financial is powered by its 7,500+ global associates and is committed to sustainable business practices. To learn more about Bread Financial, visit breadfinancial.com or follow us on Facebook, LinkedIn, Twitter and Instagram.