Retail financing services—which usually come in the form of buy now, pay later options—have been making waves for years now, and for good reason: these services have been proven to work.
According to The Motley Fool, buy now, pay later options are rapidly gaining popularity among consumers, with over a third of U.S. shoppers using a BNPL service. Furthermore, 38% of shoppers who've used BNPL said they did it to make purchases that otherwise wouldn't fit their budget.
Clearly, there's a lot of data to support retail financing, but numbers can only go so far. Sometimes, you also need to see eCommerce success stories that demonstrate the power of financing in action.
To that end, we've put together a handful of stories featuring merchants who are implementing retail financing correctly. Check them out below.
Eargo Makes Its High-End Products More Accessible Through 0% APR Financing
Meet Eargo, a hearing solutions company that sells award-winning hearing aids and offers support from licensed hearing professionals. The brand's key products are its rechargeable hearing aids that help users gain crystal-clear hearing. Eargo's customers love their products because they're small and nearly invisible, allowing them to go through their daily lives without carrying a larger, more noticeable device with them.
With price points starting at $2,000+, Eargo sought a financing solution that would make its products more accessible. So, the company turned to Bread to offer 0% APR financing to qualified customers.
With the help of Bread, Eargo launched a program that made it easy for users to obtain financing. Shoppers could prequalify with Bread from anywhere on the Eargo site; all they had to do was complete a short, automated, embedded process.
The result? Eargo saw 4 times more prequal applications than its previous provider, and the company quadrupled its overall financing volume. Based on the results of our earlier case study, 41% of all sales are made with Bread financing, and nearly half of those are driven by 0% APR financing.
Eargo's ecommerce success story shows us that you can have high-priced products and still be accessible to a wide shopper base. By giving customers the option to pay for their purchases over time, you can close more sales and get your products into the hands of people who need them the most.
CordaRoy's Offers a Branded Financing Experience Throughout the Customer Journey
Next up, we have CordaRoy's, a Shark Tank-backed company that sells patented foam-filled convertible bean bags.
To make its products available to more shoppers, CordaRoy's decided to offer two types of Bread financing options: Installments and SplitPay. The former lets shoppers make low monthly payments over time, starting at 0% APR for qualified purchases, and the latter, SplitPay, divides the product's cost into 4 interest-free payments that occur every two weeks.
Because of CordaRoy's strong brand presence, the company wanted to maintain a consistent experience throughout customers' financing journeys. So, CordaRoy's opted for Bread's white-labeling option, which allowed it to launch and promote a financing program that's fully on-brand.
In addition to a CTA on its product and checkout pages, CordaRoy's has a "View Financing Options" button on all of its pages, so shoppers can learn more about the available financing options wherever they are on the site.
All these steps that CordaRoy's took to brand and promote its financing services have certainly paid off.
CordaRoy's 12-month financing offering resulted in a 66.5% increase in checkouts, and Bread helped drive 24.5% of its total sales from 2018 to 2019.
SplitPay has performed tremendously well for CordaRoy's. In the first full month of having SplitPay on its website, the brand saw a 136% increase in total revenue compared to the previous year. Not only that, but customers ended up spending more money on the site. Thanks to SplitPay, CordaRoy's Average Revenue Per User soared 28%.
The takeaway? Giving people options to finance their purchases doesn't just drive sales, it also encourages them to spend more. That's why if you're looking to improve KPIs like basket size and ARPU, retail financing could be just the thing to help you achieve your business objectives.
INTENSE Successfully Levels Up Its D2C Strategy With the Help of Retail Financing
This eCommerce success story comes from INTENSE, which sells top-of-the-line mountain, trail, and cross-country bikes. The company, which has been around since 1993, originally sold its products through bike dealers. In 2017, INTENSE decided to go down the direct-to-consumer path to forge stronger customer relationships.
Since bikes are typically high-ticket items, INTENSE used Bread's white-labeled financing solution to make its products more cost-effective to consumers. To accomplish this, the company started offering pay-over-time options, giving shoppers easy monthly payment options, as well as SplitPay, which broke down costs into four bi-weekly payments.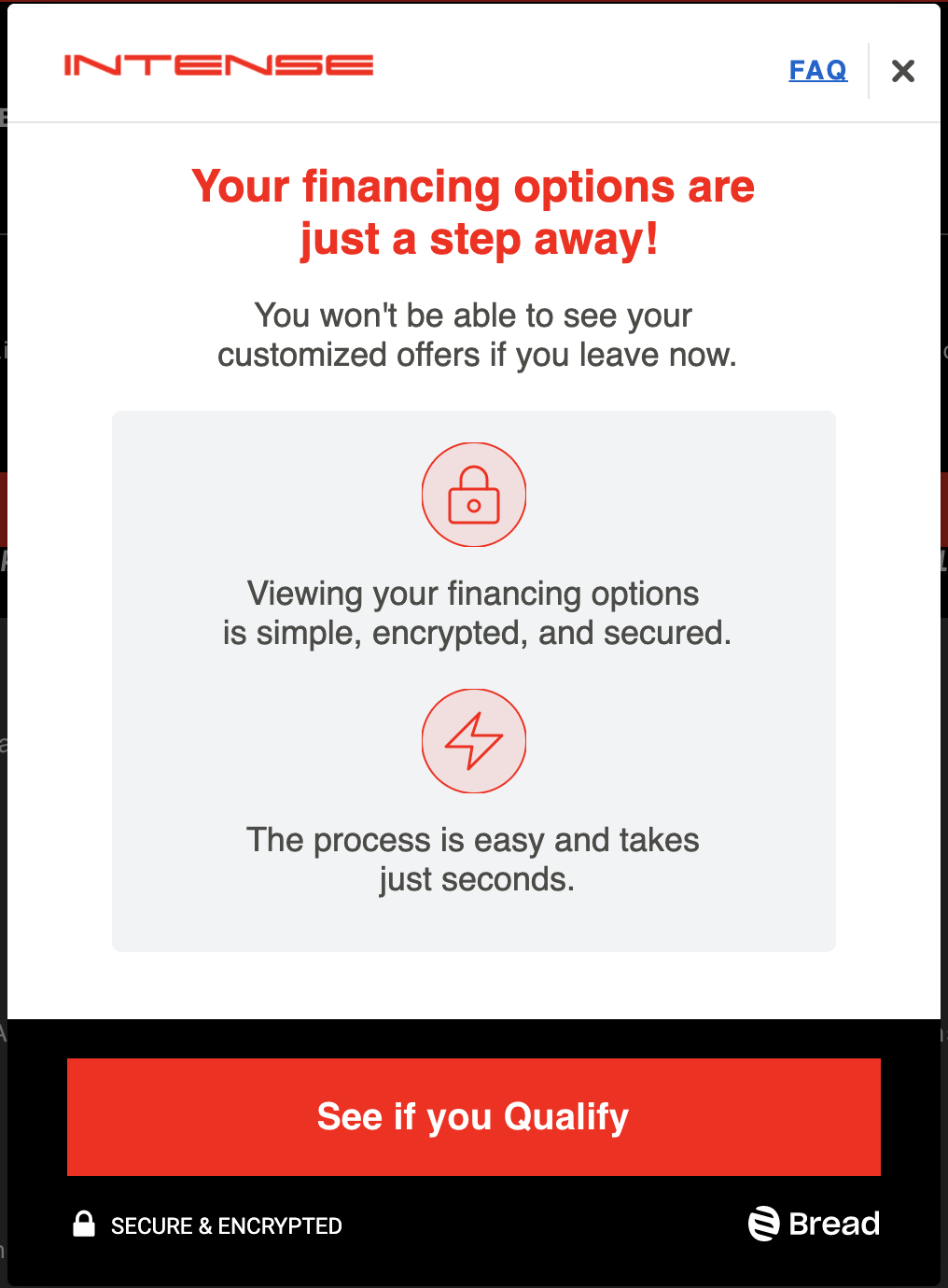 One of the things that made financing offerings more effective for INTENSE is that they allowed customers to calculate their rate early in the buying journey. Instead of offering financing at the checkout stage only, shoppers could learn about their options from anywhere on the website, including the homepage, the product page, and the shopping cart.
INTENSE found that 77% of customers check their rates from the product page, and 18% checked their rates from their shopping cart. Only 5% waited until checkout.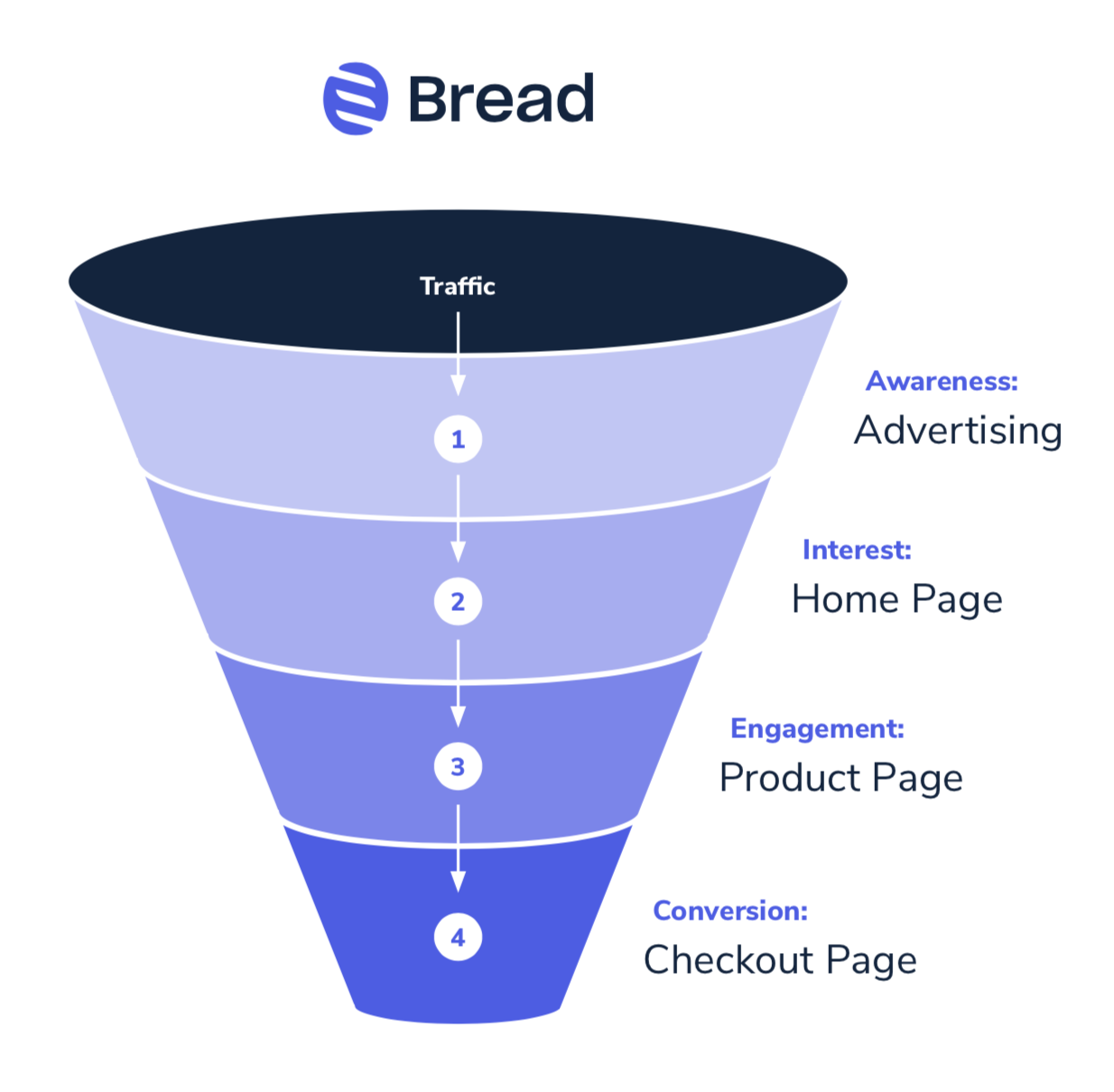 Another notable factor of INTENSE's approach is that they use their financing program to bring back customers who've previously visited their website. Shoppers with abandoned carts that had over $5,000 worth of merchandise were retargeted with a special 36-month interest-bearing rate to encourage them to complete the purchase.
This move has proven to be incredibly successful, and it currently brings the largest monthly checkout volume out of all of INTENSE's sales funded by BNPL financing. What's more, the company's partnership with Bread contributes up to 32% of its total sales. Thanks to BNPL financing, INTENSE is able to reach—and convert—more customers.
It just goes to show that you don't need deep discounts to acquire and convert customers. By providing them ways to finance their purchases, you can win more sales without diminishing your profits.
AVADirect Provides a Full Spectrum of Financing Services
AVADirect, a company that builds custom PCs for shoppers, had already been offering pay-over-time options but wanted to take things to the next level. So, the company turned to Bread to offer 0% APR financing for up to 36 months.
In addition to providing a full spectrum of financing options, AVADirect also made financing options visible across every step of the customer journey. To that end, the company launched a dedicated page for its financing program and gave people the ability to prequalify from the category, product, and cart pages.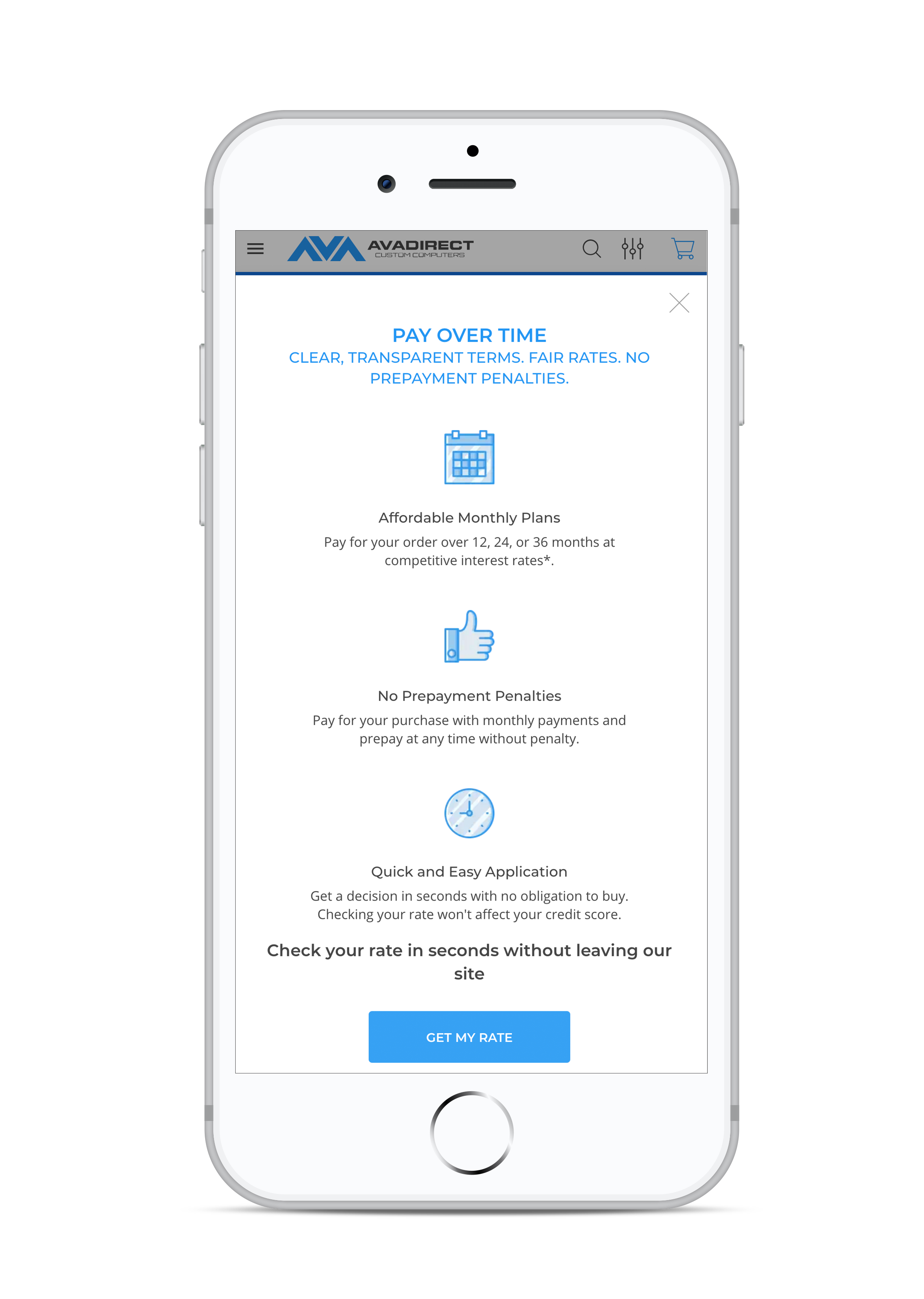 Letting customers prequalify early meant shoppers know exactly how much they could afford, and this made their decision to buy high-ticket items much easier.
Moving to Bread turned out to be a great decision for the company. After making the switch, AVADirect increased its financed sales volume by 50% and saw average order values increase by 23.6%.
One lesson to be learned from AVADirect is to not wait until the end of the shopping journey to offer financing. People want to know early on if they can afford a product, so show them their options while they're browsing your store.
The Next Ecommerce Success Story Could Be Yours
Both industry data and anecdotal information indicate that letting shoppers pay over time can increase sales, conversions, and order values. There's clearly a lot of value in retail financing, and if you're not offering services like BNPL yet, you could be leaving money on the table.
Get the ball rolling on retail financing ASAP. Contact Bread today and we'll help you determine the best options for your business and customers.