Back to Insights & Innovation
Financial Innovation
January 6, 2020
Retail websites are "digital-first" consumers' top priority—does yours meet their expectations?
By Shannon Andrick
One of retail's most valuable consumer segments may be one you've never heard of, and their number-one priority in the shopping experience is your website. "Digital-first" consumers represent a new consumer demographic identified through research by Bread Financial. These extremely valuable consumers have specific, high expectations when it comes to the web experience—and if you're meeting their expectations, you're probably exceeding everyone else's.
Virtually all consumers today are digital to a degree, but digital-first consumers are distinct in that they relate to brands first and foremost through digital channels. Compared to all other consumers, they are 94% more likely to keep up through a mobile app, 66% more likely to keep up through the retailer's website, and 33% more likely to keep up with a brand through email.
The valuable characteristics of digital-first consumers go beyond their use of digital channels. They represent a significant portion of the market—about one in three consumers can be classified as digital-first. Equally important, they are frequent shoppers, both online and in store. Seventy-one percent shop online multiple times a month, while 43% shop in store multiple times a month. The fact that they're often multichannel shoppers is particularly significant, as we've found among Bread Financial customers that multichannel shoppers spend over 50% more than single-channel shoppers.
Digital-first consumers expect the retail website experience to be easy, simple, and convenient. Here are five key things you should focus on to reach digital-first consumers' high expectations:

Prioritize easy website navigation: The ability to quickly and easily find information on a retailer's website is the top expectation for 91% of digital-first consumers. By investing in user-experience testing, you can determine whether your site navigation provides the ease of use and simplicity digital-first consumers expect. Watching where a consumer clicks along their journey will deliver immediate feedback on bottlenecks or confusing steps in the user experience.

Optimize product descriptions and photos: Clear product descriptions and photos are another important expectation for most digital-first consumers, with only 58% satisfied with how brands are delivering on this today. Inaccurate or incomplete product information can prevent digital-first consumers from going through with their purchase, so you should audit product photography and descriptions to make sure information is accurate, complete, and easy to understand.

Prominently display customer service information: It's important to 83% of digital-first consumers that customer service information is easy to find, but only 51% think brands do a good job of displaying it. Don't make customers go digging—put the information front and center to show that you're ready and willing to help them out.

Increase and enhance product reviews: Digital-first consumers consistently rely on product reviews and ratings from verified buyers to make purchasing decisions. It's a top need for 80% of consumers, and 67% want user-uploaded photos within reviews (and say it's an unmet need today). Detailed reviews also enhance SEO and drive more traffic. By partnering with third-party review platforms, you can maximize reviews on your website and get the highest quality user-generated content.

Use measurement wisely: There are many metrics at your disposal to help reveal pain points within the customer's web experience. By establishing benchmarks for the website metrics that matter most to them (such as page load time, page conversion rates, scrolls, click and search data, time spent on the site, bounce rates, and abandoned cart rates), you can make data-driven investments that maximize engagement and sales.
The good news for brands? Meeting digital-first expectations for your website is an investment that pays off, because you can be confident that you're delivering an optimized, best-in-class experience to anyone who shops your site.
Author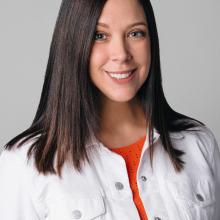 Shannon Andrick
Vice President of Business Strategy
Shannon Andrick is a strategy and marketing executive in the retail and financial services industries. As the Vice President of Business Strategy and Head of the Transformation Office, her team supports the Office of the President and all strategic business efforts at a total company level.